Eastbourne Cat Sitting
Hi, my name is Yara Sheffield and I'm a devoted pet sitter and specialist cat sitter providing a very caring and professional pet sitting service and specialist cat sitting service covering Eastbourne and surrounding areas including Old Town, Ratton, Hampden Park, Willingdon, Wannock, Pevensey, Pevensey Bay, Cooden, Bexhill-on-Sea, Bulverhythe, Sidley, St Leonards-on-Sea, Hastings, Hollington, Hailsham and Battle.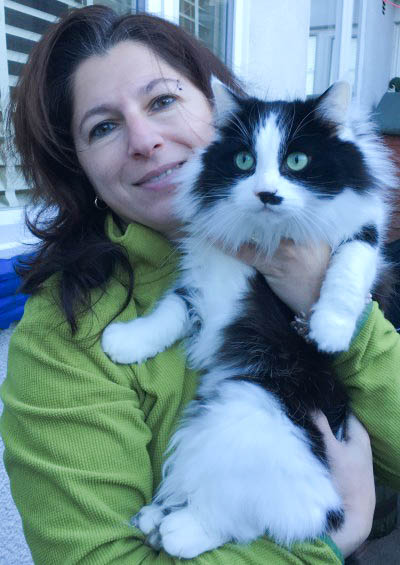 Eastbourne Cat Sitting Reviews
My business continues the tradition of the marvellous service previously provided by my predecessor Isabel who retired from the business to spend more time with her young family.
To check out the reviews for the Home Loving Cats cat sitting service in Eastbourne, please click on the following link:
Eastbourne Cat Sitting Reviews
About Me, my family, and my Greek origins!
I live with my 5 young cats and my partner Jane (who is also a crazy cat lover!).
I grew up and lived in Athens with my parents, two sisters and a brother until around 1991 when my family moved to Hammersmith. Whilst my family emigrated to New Zealand in 2001, I went to the USA. I started to live in the UK permanently in 2009 working as a Head Chef in London. Later I had a career change and decided that I wanted to drive buses around Central London!
However, to work with animals (especially cats) has always been my dream - so I can now say that I am "living my dream!"
My family have always had cats, and in Athens there are always rescue cats in every home. Even now, my extended family in Athens have around 20 rescue cats living in doors and outside.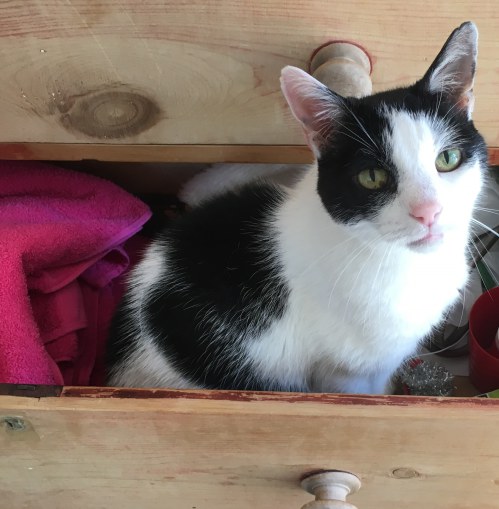 Our late Dennis (above) lived to a ripe old age of 19! He was a big personality for a quite skinny black and white domestic. He would lie in a sunny spot in the middle of the road - and cars would respectfully drive around him! Here is again - relaxing in the garden: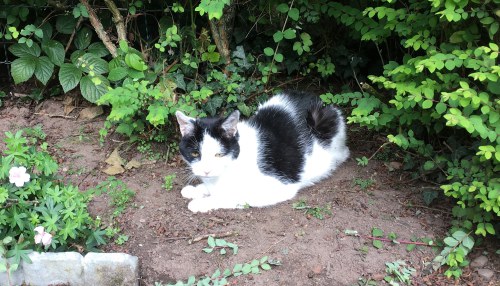 He was always in fights with neighbourhood cats and would often come home with "war" wounds - including bits out of his ears and the loss of most of his tail! We loved him dearly and miss him every day.
We currently have 5 rescue cats (we still call them "kittens" after 2 years!). Below we have Ruby (on the left), a black and white boy (we initially thought he was a girl!), and PauliPaul, our black and white long haired princess (named after Paul Newman of the famous blue eyes).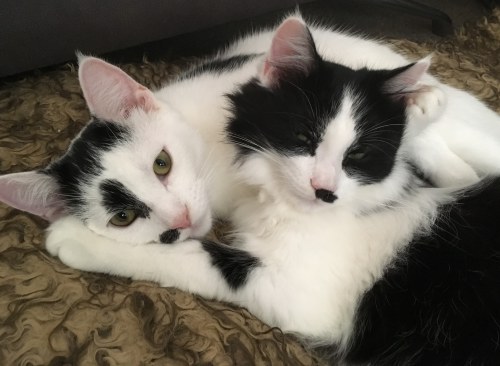 And here they are again, in total harmony with each other, enjoying their beauty sleep!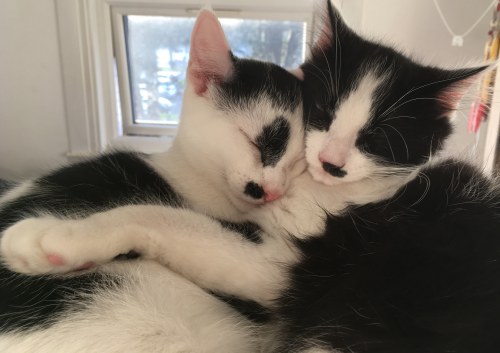 Toby has a beautiful heart shape on his back to match his loving and adorable nature and here he is with Tony, mostly tabby and long haired, and the most gentle and loving cat ever: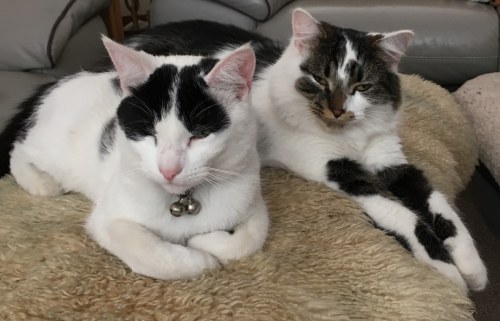 Baker came to us when his family moved abroad. As you can see below, one of his favourite places is the bathroom sink!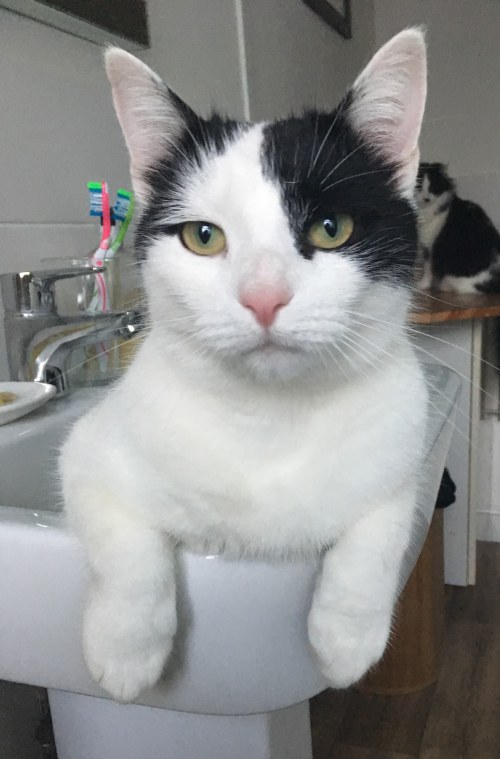 Dennis, Ruby, PauliPaul, Toby, Tony and Baker were all previously cats in need. But not any more! If you are looking to give that "forever" home to a cat in need, why don't you contact the Cats Protection Eastbourne Adoption Centre?
My Interests and Hobbies
I love being out in the fresh air (so apart from spending copious amounts of time with my beautiful cats) I really enjoy going on walks. Pevensey Castle and the surrounding areas are perfect for long walks. I also love eating out (Greek of course!), cooking, music and riding my motorbike.
Why Cats Love My Cat Sitting Service!
Cats are very territorial and when taken away from their familiar home surroundings, they can get totally stressed out. Veterinary experts now know that when cats suffer stress, they can experience illness, depression and eating disorders. You might want to check out our article Why Cats Hate Catteries.
The pace of life is very hectic these days and we all lead busy lives. This is where my service is brilliant for cat owners! Many holiday and business trips are arranged at very short notice and I pride myself on being able to react very quickly and in a very flexible way. My regular customers know that all they need to do is send me a text or email prior to departure - and then leave everything to me! Away they go on holiday or on business with the peace of mind of knowing that I will care for their cat in every way. Your cat might not even realise you have gone away!
I will then visit each day, and apart from the obvious practical aspects such as food, water and litter trays, I will socialise with, play with, and fuss your cat so that it is relaxed and happy. Whilst you are away, if you decide that you want to extend your holiday or business trip, it's not a problem - just let me know and I will make additional visits.
It goes without saying that I am absolutely reliable and I will always go the "extra mile" to help out my customers. You also have the peace of mind knowing that I hold a basic disclosure (police check) and public liability insurance.
Get in touch today!
I am available most of the time, and at short notice, over most of the traditional holiday periods including Easter, summer, Christmas, New Year and over most weekends including bank holiday weekends. However, at very busy times my service is in great demand and I sometimes have to limit my availability - so please book early if at all possible.

If you want your feline family to have a really lovely time when you travel away, please get in touch today and I will email you a quote and further information about my service.
To contact me, please enter your full postcode in the form at the top of the "Home" page.
See you soon!
Yara