Eastbourne Cat Sitting
My name is Isabel Rodriguez and I am very proud to own and run the fantastic Home Loving Cats cat sitting service covering Eastbourne and surrounding locations including Seaford, Pevensey Bay, Bexhill, Saint Leonards and Hastings. I provide an absolutely outstanding service and all my feline friends receive amazing amounts of fuss and attention!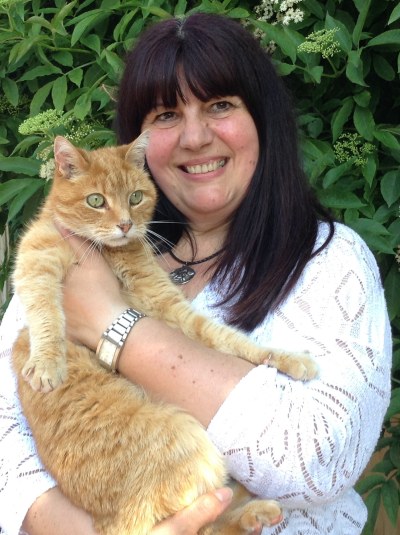 My Eastbourne Cat Sitting Reviews
Please check out my customer reviews by clicking the following link:
Eastbourne Cat Sitting Reviews
About Me
I live in Eastbourne, a beautiful seaside town on the south coast, east of Brighton. I have lived here now for 23 years. I originally came from Spain to study the English language but after finishing my studies, I decided to stay as I love the UK so much!
Over a three-year period I gained my qualifications in beauty therapy and massage and for some years I worked in a beauty salon. I eventually decided to become a mum and I had two beautiful daughters. I consider that being a mum was the most wonderful and rewarding experience of my life and it really inspired me to have a change of career and to go into child care. For my previous 7 years I worked as an Early Years Educator and achieved my NVQ2 and NVQ3 in Children and Young People's Workforce together with other relevant qualifications such as "Positive Behaviour","Child Protection", "Working with Babies", "Paediatric First Aid", and some others.
My passion for animals started in my childhood. Back in Spain as a young child we used to have a range of animals including dogs, cats, ducks and chickens. My whole family loved animals and I grew up in this wonderful environment. I loved all the pets that we had but I was especially fascinated by cats. One day, a little black female cat appeared in front of our house and although my mum said that we already had too many animals, she could not resist her beautiful face! That was how Luna and I started the most amazing friendship. Luna spent a good part of her life with us, bringing joy and laughter to all of us. Sadly, one day, when she was around 7,years old, she disappeared in the same mysterious way that she originally appeared. I am so happy that my children also share this passion for animals – and especially cats which we all adore!!
We currently have a handsome, ginger cat called Harry. He is 15 years old and is absolutely gorgeous! Harry is a "rescue" cat and he came from the Cats Protection National Adoption Centre in Chelwood Gate. We fell in love the second we saw him behind the glass at the rehoming centre! We had no doubt that we would give him a comfortable loving home for the rest of his years. If you are looking to give a home to cat in need, why don't you contact the rescue centre above? (It is only 20 miles from Eastbourne).
My Interests
It is such a blessing to live in Eastbourne as we get the best of both worlds – both seaside and countryside. When the weather is nice (and I have the time away from caring for my feline friends!), I love to go for walks along the seafront. There is nothing more relaxing than spending a day on the beach on a sunny day, enjoying the lovely sea breeze and consuming ice-cream with my daughters. There are also many great places to visit like the Beachy Head Countryside Centre close to the renowned beauty spot itself and with incredibles views, along with castles, military fortresses, museums and also the Helen Garden and the Italian Gardens.
I also love going to the theatre. Eastbourne is blessed with some lovely theatres including the Congress Theatre, the Devonshire Park Theatre, and the Winter Garden.
Why Your Cat Would Choose My Cat Sitting Service
Cats are very territorial and when taken away from their familiar home surroundings, they can get totally stressed out. Veterinary experts now know that when cats suffer stress, they can experience illness, depression and eating disorders. You might want to check out Why Cats Hate Catteries.
The pace of life is very hectic these days and we all lead busy lives. This is where my service is brilliant for cat owners! Many holiday and business trips are arranged at very short notice and I pride myself on being able to react very quickly and in a very flexible way. My regular customers know that all they need to do is send me a text or email prior to departure - and then leave everything to me! Away they go on holiday or on business with the peace of mind of knowing that I will care for their cat in every way. Your cat might not even realise you have gone away!
I will then visit each day, and apart from the obvious practical aspects such as food, water and litter trays, I will socialise with, play with, and fuss your cat so that it is relaxed and happy. Whilst you are away, if you decide that you want to extend your holiday or business trip, it's not a problem - just let me know and I will make additional visits.
It goes without saying that I am absolutely reliable and I will always go the "extra mile" to help out my customers. You also have the peace of mind knowing that I hold a basic disclosure (police check) and public liability insurance.
Get In Touch Today!
I am available most of the time, and at short notice, over most of the traditional holiday periods including Easter, summer, Christmas, New Year and over most weekends including bank holiday weekends. However, at very busy times my service is in great demand and I sometimes have to limit my availability - so please book early if at all possible.

If you want your feline family to have a really lovely time when you travel away, please get in touch today and I will email you a quote and further information about my service.
To contact me, please enter your full postcode in the form at the top of the "Home" page.
See you soon!
Isabel Rodriguez