Warwickshire Cat Sitting
Hello to you and your cats from Patrick and Janet Kelly!
We provide a very caring and professional cat sitting service of outstanding quality throughout most of Warwickshire.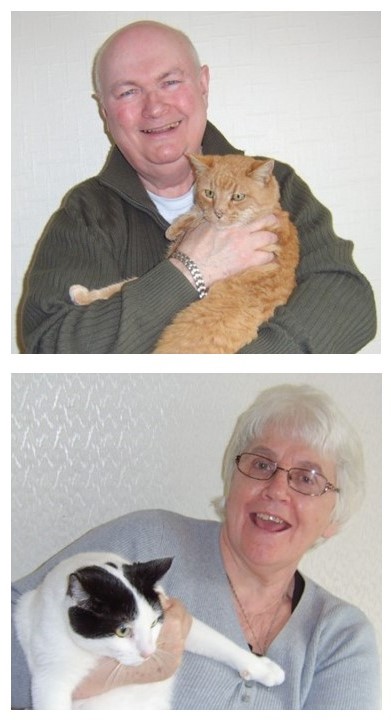 Our Warwickshire Cat Sitting Reviews
We have only very recently started asking our customers if they would be kind enough to leave a google review in relation to our service. The first review has been received and more will follow in due course! These can be viewed by clicking the following link:
Warwickshire Cat Sitting Reviews
Why our cat sitting service is great for you and your cats!
We absolutely love cats! Both of us feel incredibly lucky to now run our own cat sitting business. It is so rewarding to be able to look after cats on a daily basis and help our customers feel relaxed when they travel away – happy in the knowledge that someone is giving their beloved cat or cats so much love and attention!
Cats Hate To Leave Home!
Cats are territorial animals and they really hate leaving home. If they are taken from their familiar home environment, they can become stressed, fretful, and depressed, and can sometimes stop eating for days at a time. This can cause their immunity to be lowered and they can be more susceptible to infections and illnesses. In addition to preventing this from happening, our service also eliminates travelling to and from the cattery and being subjected to cattery opening times which are not always convenient.
Check out our article Why Cats Hate Catteries.
About Us
We consider ourselves very lucky to have grown up in the beautiful Warwickshire countryside. We moved to the picturesque town of Warwick within sight of the famous Warwick Castle 25 years ago. We have three daughters and throughout their childhood they were encouraged to develop their natural love of animals and experience a variety of pets which included two rabbits, a guinea pig, a tortoise, three cats and a dog. They are now following the family tradition with our grandchildren who all have a love of animals.
The latest adorable addition to our family is an 18 month old short haired boy who we adopted from Cats Protection and we have named him Bippa. And here he is!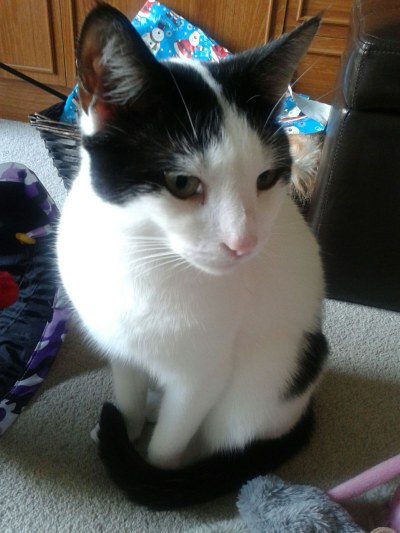 We are active supporters of the Mid Warwickshire Cats Protection. We are also within short driving distance of the RSPCA Coventry, Nuneaton & District Branch at Allesley, Coventry, and the PDSA Pet hospital in Coventry. All of these centres play a key role in the care and rehoming of many lost, sick and abandoned cats. Long may this valuable work continue!
We first became aware of the need for a cat sitting service when we decided to take a brief holiday and needed to provide for our beloved Buster: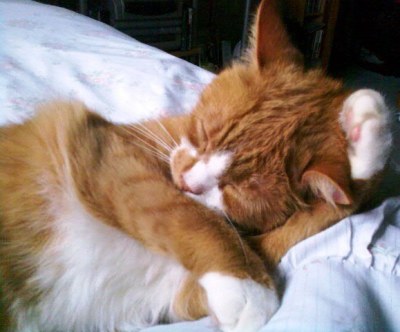 Rather than cause him the distress of taking him away from home and staying in a cattery, we arranged for our youngest daughter to come and stay with him. On our return he seemed totally relaxed and it seemed as though we had just been to the shops! This prompted me to research the availability of local cat sitters and was surprised to learn that a dedicated cat sitter was relatively rare. Most "general" pet sitters seem to focus on dog walking and include cat sitting as an afterthought.
Why Home Loving Cats is the best option for you and your cats
In cat care, like many other areas in life, "you get what you pay for", so be very careful when comparing pet sitting services that you compare "like for like".
"Cheapest" is not always the "best". Some cat sitters offer a basic "pop in" or "feeding" service and we have received feedback from customers who have moved to using Home Loving Cats from an inferior service where their neighbours have observed that so-called "pet sitters" have arrived in vehicles bearing advertising signs (clearly announcing to the whole neighbourhood that you are away from home). They have dashed into the house and many visits have been timed by the neighbours at no more than 5 to 10 minutes maximum. This barely allows enough time to put down the food and change the litter. It certainly leaves no time for your cats to receive any kind of "socialisation" or "companionship" or "laptime" or "play" time. In many instances, it has been apparent to friends and family who have occasionally called in to check on the cats, that dishes have clearly not been washed for several days. Unfortunately, unless you have observant and diligent neighbours, you won't know this is the case.
That is very definitely NOT the type of service provided by Home Loving Cats! We offer a fully comprehensive service of integrity that not only covers all the practical aspects of food, water and litter, it also includes lots of quality time spent with your cat.
When we came across Home Loving Cats it was like a breath of fresh air. The professional and caring attitude was everything we could have wanted. Taking on the Warwickshire franchise and joining a great team of cat carers was a logical and easy decision to make.
We really look forward to caring for your cats! We will be a "servant" to your cat(s) – and be absolutely reliable, loving, fastidious and responsible. When we feed them, the dishes will be properly washed and dried and their water will be changed on a daily basis. Any litter trays will be maintained to meticulous levels of hygiene.
And very importantly, if they enjoy social interaction, we will engage with your cats in appropriate ways. A cat which is elderly may just enjoy simple lap time whereas younger cats may like to play games.
Leave everything to us, and when you travel away, you will have the peace of mind of knowing that we will care for your cats as if they were our own.
Get in touch today!
To contact us, please enter your full postcode in the form at the top of the "Home" page.
Tell your cats they will have a lovely time with us!
Best regards
Patrick & Janet

Home Loving Cats, 34 Yeomanry Close, Warwick, CV34 4UT