Birmingham North Cat Sitting
We are cat mad Garry and Amy, devoted pet sitters and specialist cat sitters providing a very caring and professional pet sitting service and specialist cat sitting service in Birmingham covering Erdington, Perry Barr, Handsworth, Aston, Nechells, Castle Bromwich, Saltley, Lozells, Bordesley, Marston Green, Fordbridge, Coleshill, Ward End, Witton, Hockley, Chelmsley Wood, Smethwick, Sparkbrook, Kitts Green, Castle Vale, Tyburn and Stechford.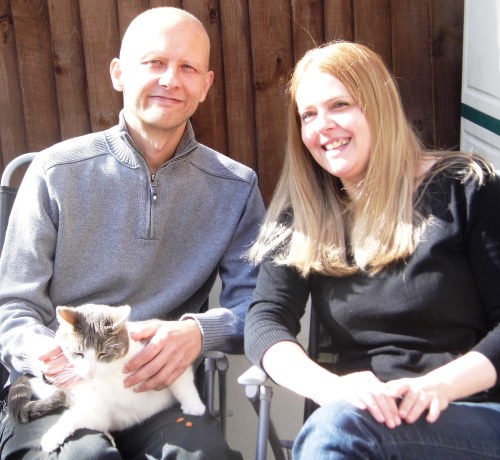 Our Birmingham Cat Sitting Reviews
Please check out our customer reviews by clicking the following link:
Birmingham Cat Sitting Reviews
Why cats love our Birmingham cat sitting service!
Many cat owners who are perhaps not aware of our outstanding cat sitting service put their cats into a cattery when they go on holiday or travel on business. However, cats really hate leaving home! To understand why this is the case, please click on our article Why Cats Hate Catteries to gain an appreciation of why a reliable and caring cat sitting service is a brilliant cattery alternative.
When you use our service, we don't just do the obvious practical things (such as replenishing food and water and servicing litter trays), most importantly we will socialise with your cat in an appropriate and meaningful way. Some older cats may just prefer the company and some "laptime", whilst younger cats or kittens will probably enjoy some playtime (with games of "chase the string" - a favourite game for cats of all ages!).
The bottom line is that your cat will have a lovely time with us - and may not even realise you have gone away!
Why you will love our service!
Our service is a very caring and extremely compassionate service, and being "cat people", we truly understand cat behaviour.
We only care for cats - unlike other pet sitters who perhaps walk dogs and will usually arrive smelling of "dog" (which can be stressful to some cats).
We take our duty of care very seriously and will always prioritise the health, welfare and happiness of your cat.
Our service is utterly reliable and we never let you or your cats down.
We will always go "above and beyond the call of duty" to help our customers if we possibly can.
We will always address emergency medical issues in relation to your cat and if necessary take it to the vets.
We are available most of the time - including most of the popular holiday periods.
We will water houseplants, remove mailings from your letterbox, and give your house that "occupied" look by turning on various lights and adjusting curtains. Refuse bins can be put out prior to collection day and brought back to the house.
We are of exemplary character and integrity and your home and contents will be safe in our care. (We possess a Basic Disclosure Police Check and also public liability insurance).
We are able to react at short notice and help you out if you need arrangements put in place quickly. Our fast response time, our reliability and our experience caring for cats, are three of the many reasons why we have lots of happy customers who like to holiday, and so many contented cats who love to stay home - instead of being taken to a cattery! Our service can be used for any length of time from one day upwards.
The main thing is that cats enjoy absolutely brilliant care, attention and lots of cuddles! – so you will have total peace of mind whilst travelling.
About Us
Garry is a born and bred Brummie, and Amy is an Evesham girl.
In our spare time we like reading - Amy prefers crime novels whilst Garry enjoys comics or sci fi and also going to the cinema - again, anything with comic book superheroes in it is a must! We also like music and going to gigs, mainly rock and guitar music, and our proximity to the NEC is a bonus.
We have both grown up with pets; cats mainly for Garry, but Amy has grown up the cats, dogs, rats and guinea pigs. We especially love cats as they have so much character and intelligence. We have 2 cats of our own, which we have had from kittens, and as we have no children they are our 'fur babies' and have us wrapped around their little paws!
Kimble is a 5 year old black female. She is a mommy's girl, liking nothing better than curling up with Amy on the sofa and watching TV. Kimble is the loving, beautiful, if slightly neurotic lady of the house.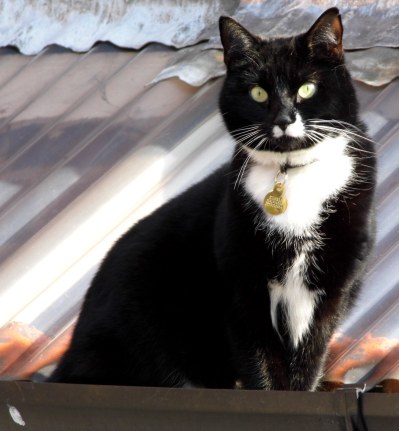 Mookie is a 4yr grey and white male. He is a daddy's boy, loving and soppy he will follow you around the house and garden and greet you at the door when you come home - so much so we called him 'cat-dog'.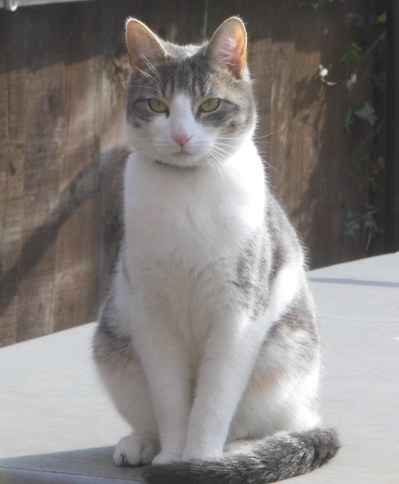 If you are looking to adopt a cat, please consider contacting the Cats Protection Birmingham Adoption Centre, or Ward End Cat Rescue which is run by the very dedicated Tony Hunter. All the carers at these cat rescue centres do a brilliant job and there are lots of lovely cats waiting for that "forever" home. Please also remember that they rely on donations from all of us to continue their amazing work - so please give generously if you can.
When we go on holiday we normally get Garry's mum and dad to come in and look after cats but sometimes we like to go away together to celebrate a birthday or anniversary. It was at one of these times we found Home Loving Cats. Although we have used a cattery in the past and found a local one we trust, we still found the idea uncomfortable and Amy used to spend most of the holiday fretting about our babies. In addition to this, Mookie does not travel well, so as an alternative we looked at cat sitting.
The more we looked into it, the more we realised that Home Loving Cats could benefit not only our cats - but ourselves as well! With Home Loving Cats we could realise the dream of working for ourselves, run our own business, and combine it with our love of cats. Purr-fect!
Get in touch today!
If you want your cats to receive the very best of care whilst you are away, we look forward to hearing from you today.
And tell your cats that there is no extra charge for cuddles, laptime or playtime!
To contact us, please enter your full postcode in the form at the top of the "Home" page.
Best regards
Garry and Amy Preece