North Hertfordshire Cat Sitting
My name is Sue, a devoted pet sitter and specialist cat sitter providing a very caring and professional pet sitting service and specialist cat sitting service in Hitchin, Letchworth, Stevenage, and North Hertfordshire including Shillington, Stotfold, Baldock, Ickleford, Knebworth, Codicote, Woolmer Green, Bragbury End, Pirton, Barton-le-Clay, Flitwick, Silsoe, Clophill, Chicksands, Shefford, Henlow, Arlesey, Clothall, Clothall Common, Little Wymondley and Gosmore.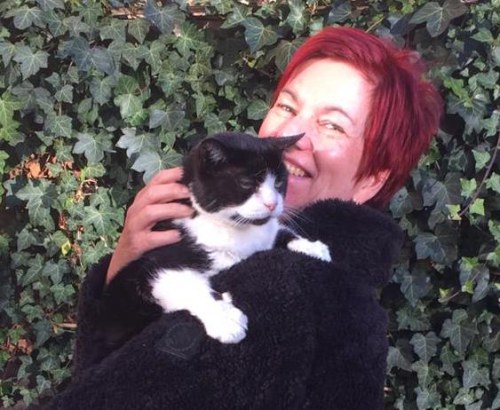 My Cat Sitting Reviews
Please check out my customer reviews by clicking THIS LINK.
About me
I am originally from Kent and I then lived in London for many years. I couldn't wait to get back to the countryside so I moved to Hertfordshire around 12 years ago.
Having worked in the dental industry for several years, I reached a stage where I knew I was ready for a change. I wanted the independence and freedom of running my own business and at the same time I wanted to contribute to a worthy and fulfilling cause. Home Loving Cats means I can do exactly that. To me, caring for cats and giving their owners peace of mind when they travel away just isn't my work. It's my passion! And I strongly believe in the saying "If you do something you love, you'll never work another day". This is why I was so excited when I came across Home Loving Cats, and I knew immediately that it was my opportunity to follow my dream of running a business caring for animals. I live with my partner, Leo, whom I have known for many years. He is kind enough to do all the house-work and shopping whilst I am out caring for cats!
Cats and me
I have grown up with cats and love everything about them, and I feel it is a great privilege to care for them. I am the proud owner of Flixie, a black and white moggie. Here she is!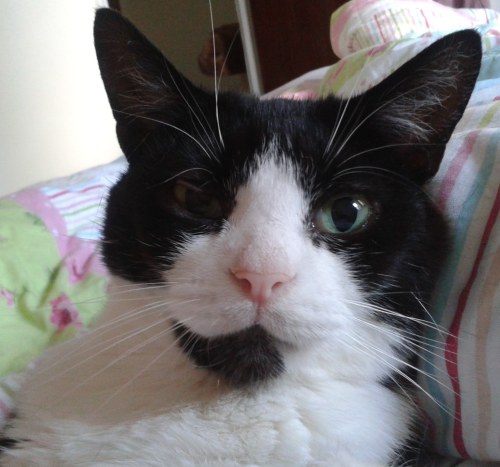 She is a little old lady who runs the household! I adopted her from RSPCA Southridge about 5 years ago. She sleeps on my head and wakes me in the morning by purring in my ear.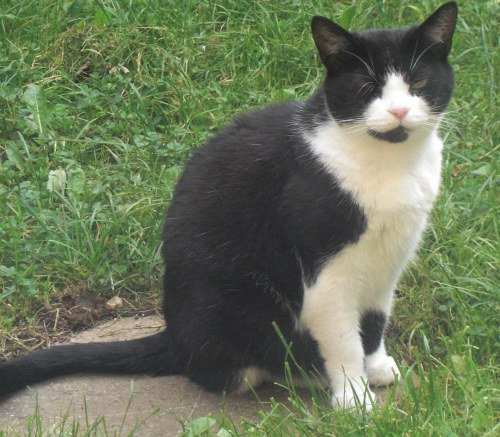 My previous cat, Emmylou, was adopted from Cats Protection. I sadly lost her about 6 years ago. And just to prove that wonderful things can come in small packages (!!), here she is, bless her: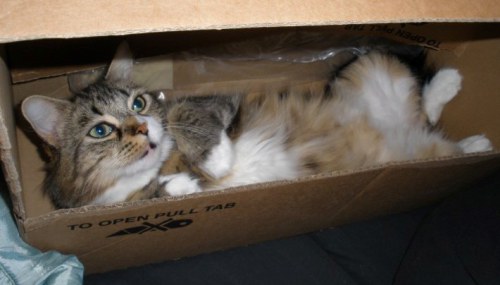 My horse!
Apart from cats, my other main hobby is my horse, Vindi. He is a beautiful Chestnut Anglo-Arab, whom I have owned for about 14 years. You will normally find us out and about having fun riding in the countryside rather than competing. When I am not caring for cats I ride Vindi several times a week - which keeps both Vindi and I fit, happy and relaxed!
My service is so much better than a cattery!
I am very experienced with shy and nervous cats. Rescue cats in particular always need lots of time and patience, especially when settling into a new home or getting used to a new cat sitter. I always hated taking my own cats to a cattery when I had to be away from home, and I had the impression that they thought they were being abandoned or perhaps even being taken back to the rescue centre. Which definitely left me feeling most uncomfortable.....
Fortunately for my customers, the Home Loving Cats service bears absolutely no comparison to the cattery option whereby cats are taken away from familiar home surroundings, made to undertake a stressful journey and then confined to a small pen. It is little wonder that when subjected to this ordeal, cats feel abandoned, suffer very high levels of stress and have their happiness and well-being compromised. Many owners themselves also experience very high levels of stress as they go through this process.
It's not that catteries are "bad" places; they're not! In fact, there are some quite nice catteries. But there is no escaping the fact that most cats do not like leaving the familiarity, security and certainty of their home environment.
In contrast to this, a caring cat sitter visiting your cat each day in its own home is the purr-fect answer when you are away from home. Check out our article "Why cats hate catteries".
Leave everything to me!
I always meet the owner and cats beforehand, so I am fully familiar with your current cat routines, and so that I can indulge your cats in the little special things they enjoy – along with any unusual idiosyncrasies!
I don't just do the obvious practical things like organising food and water and ensuring outstanding litter tray hygiene, I spend quality time with your cat on its own terms. Whether your cat enjoys "play" time, or "lap" time or "quiet" time, I will ensure that your cat really looks forward to my visits!
In addition, I will water houseplants, remove mail and newspapers stuck in your letter box, and adjust lighting and curtains to give the impression that your house is occupied. I am also happy to put out and bring back refuse bins if you let me know what day collections are made.
If you have additional small pets (such as goldfish, guinea pigs or hamsters, for example), I am happy to assist with their care. Depending on how much needs to be done, there may be a slightly increased fee to take account of the extra time.
I will never let you down!
Other features of my service include:
My service is extremely reliable. I will always "go the extra mile" to assist you in every way I can, and I will never let you or your cats down.
Although some notice is always welcome, I can react at very short notice to help my customers, and a text the night before is usually all I need from my (existing) customers.
I am available over most of the main holiday periods and over most weekends.
I know when I am away myself, I like to know how my cat is faring, and likewise whilst you are away I will send you messages from time to time.
Finally, I am of impeccable character and integrity, and your home and possessions are safe in my care. I possess a Basic Disclosure Police Check and carry public liability insurance to provide you with extra reassurance.
I also have a Centre of Excellence "Feline Behaviour and Psychology" Diploma with a distinction which can be viewed by clicking THIS LINK.
Get in touch today!
For total peace of mind whilst you are away from home, please get in touch today and I will email you some information and a fee quote.
To contact me, please enter your full postcode in the form at the top of the "Home" page.
See you soon!
Sue
(Check out my Facebook page by clicking HERE)