Liverpool Cat Sitting
We are Alex and Nuno, devoted pet sitters and specialist cat sitters providing a very caring and professional pet sitting service and specialist cat sitting in Liverpool.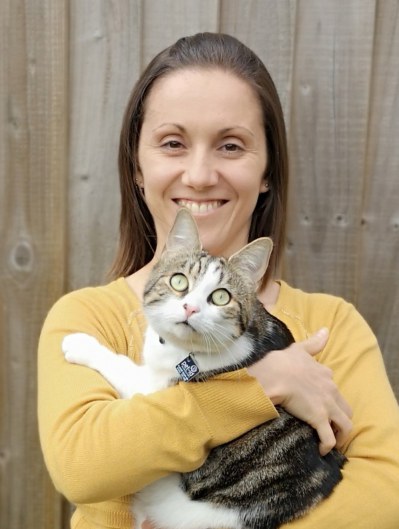 Our Cat Sitting Reviews
Please check out our customer reviews by clicking OUR CAT SITTING REVIEWS.
Cat sitting – Absolutely the right choice for your cats
Cats are territorial animals and they can become very stressed when taken away from their familiar home environment. For more details, please read our article "Why Cats Hate Catteries"
We experienced this with our own cat Link when we went on holiday. At the time, we had no alternative but to take him to a cattery. It was obvious after our return that he had absolutely hated it, and he was very stressed for days afterwards. After that experience, we decided we wouldn't take him there again and we found someone to care for him in the welcome familiarity of our own house.
By choosing our Home Loving Cats service you will get a specialised and dedicated cat sitting service that will provide your cat with an outstanding, quality service. We look after cats as if they were our own (because we love cats!) and when they temporarily become part of our feline family, their health, happiness and wellbeing becomes our first priority.
A little about us and our passion for cats
We are originally from Portugal and moved to the UK to look for better professional careers. I'm a nurse with 15 years of experience and my husband Nuno is a fantastic and very motivated personal trainer. Working as a nurse on several different wards specialising in the treatment of cancer has moulded my very caring personality, and nothing is too much trouble for me as I prioritise the well-being of my patients. Nuno, in his role as a personal trainer, helps his clients on a daily basis to achieve their goals, going above and beyond the call of duty time and time again.
I grew up with cats and absolutely love them, and even remember feeding two abandoned new-born kittens with syringes of milk when I was around 10 years old.
My love of cats has unsurprisingly remained with me, and Nuno and I re-homed a cat rescued by a local animal charity. Link is a giant ginger cat with a most impressive personality, and he is marvellously crazy! Since adopting Link, Nuno has also become extremely passionate about cats! The saddest moment in our lives was when we realized we couldn't bring Link with us when we moved to London. Sadly, we had to pass him to a trusted family friend. After a few years of living in London we decided to move to Liverpool and finally fulfilled our dreams of a house with a garden, which allowed us the opportunity of bringing cats into our lives again. After our first month in Liverpool we got in touch with a local cat rescue charity and adopted two little sisters, Mia and Luna. Here they are! Aren't they gorgeous?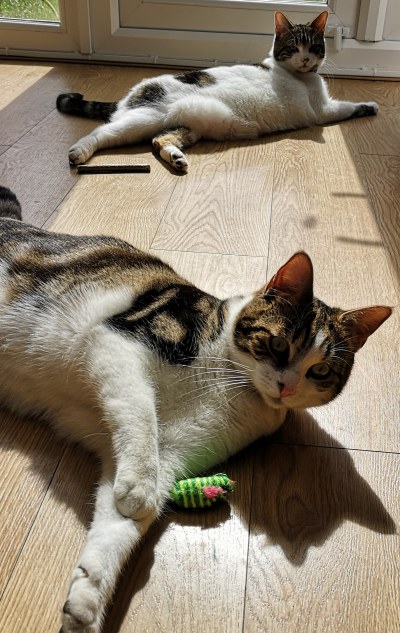 They made our lives so much happier and there is every chance we might gain a further cat (or two!). Mia and Luna are very much part of our family and as you can see, they love to run around in our garden.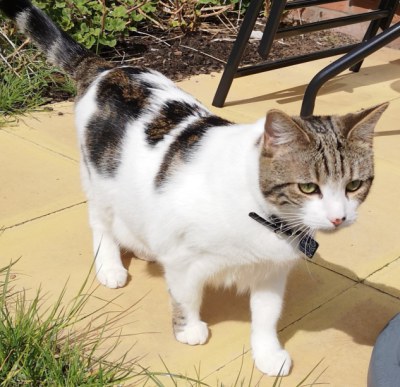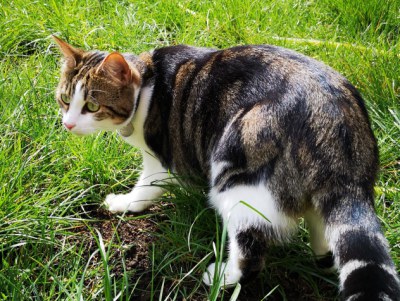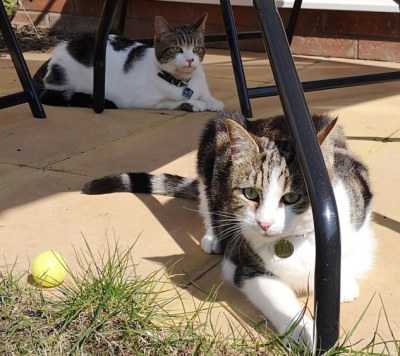 Talking of gardens, if you want to gain the peace of mind of knowing that your cats can enjoy themselves outside in complete safety, why don't you take a look at our article "I cannot let my cat outside because of traffic" and also our associated article "Cat Proof Fencing". In addition, if you wish to offer a "forever" home to a cat in need, you might wish to check out the cat rescue charity that we ourselves used (Liverpool Cat Welfare; website or Facebook) or take a look at your nearest branch of Cats Protection.
Working with cats is a dream come true for both of us. Not in a million years did we think we would be coming to Liverpool and to see such a dream come true! We were so excited when we were given the opportunity of becoming part of Home Loving Cats. It is a brilliant service and we feel very proud to be part of!
Why you and your cats will love our fabulous service!
We are passionate about cats and have a great understanding of their needs and behaviour.
Our service is extremely reliable, we will always go the extra mile, and we will never ever let you or your cats down.
We don't just do the obvious practical things such as providing food, fresh water, and outstanding litter tray hygiene. In addition, and most importantly, we also spend quality time with your cat, in whatever way your cat prefers – be that play time, cuddles, lap time or grooming. Your cat indeed calls the tune!
Care is provided personally by ourselves - so it is guaranteed that a true cat lover will be looking after your cat.
We only care for cats, so we won't arrive smelling of "dog", what can leave some cats feeling stressed.
Our service is available 7 days a week, including most popular holiday periods and can be booked for any length of time from one day upwards. If you have any special requirements, it's not a problem, and our service can be tailored to your needs.
For added peace of mind so you can relax whilst you are away, we will send you photos and messages with updates on your cats.
We will do our best to accommodate last minute bookings although notice is always appreciated. Whilst you are away, if you wish to extend your stay, just let us know and we will continue to care for your cats until your return.
Your home will be safe in our hands. We are trustworthy persons of great integrity and possess basic disclosure police checks and public liability Insurance for your peace of mind and added security.
Before you using our service for the first time, we will arrange a free initial meeting to meet you and your cats, and to run over the arrangements for your booking.
In the very unlikely event that a cat becomes ill whilst you are away, we will contact your vet practice immediately and take it there if necessary.
We are happy to water your plants, take mail out of the mailing box or put bins out and bring back if required.
Our service is discreet with no branding or advertising on cars, so nobody will be alerted to the fact that you are away from home.
Contact us today!
We will make sure your cats are happy and stress free.
To contact us please enter your full postcode in the form at the top of the "Home" page.
We look forward to meeting you and your cats!
Alex & Nuno
(Check our Facebook page by clicking HERE and also our Instagram page by clicking HERE).