Edinburgh West Cat Sitting
My name is Gina and I'm an Edinburgh pet sitter and specialist cat sitter providing a very caring and professional pet sitting service covering the Edinburgh West area including Granton, Corstorphine, Gogar, Davidson's Mains, Hermiston, Riccarton, Craiglockhart, Slateford, Gorgie, Merchiston, Dalry, Polwarth, Cramond, Fairmilehead, Juniper Green, Currie, Balerno, Colinton, Morningside, Comely Bank, Dean Village, West End and surrounding locations. If you are looking for someone to give your fur babies the very best of care whilst you are away from home, then you are definitely on the right page! To check if I cover your location, please enter your full postcode in the form at the top of this page.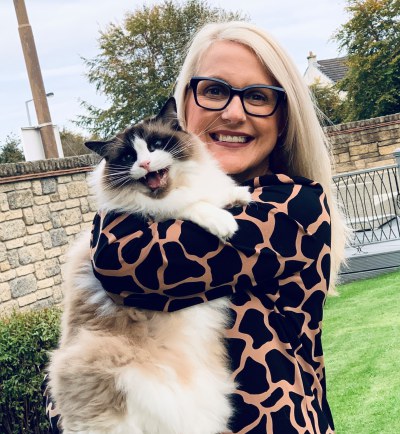 My Cat Sitting Reviews
Please check out my customer reviews by clicking MY CAT SITTING REVIEWS.
Why choose me to care for your fur babies?

I have over 25 years' experience of looking after cats. I know how precious they are and how critical it is to get the right person to look after them.
Your cat/s would probably choose home visits if they could speak. Rather than going to a cattery, they would prefer that their routine and environment is maintained during a rather stressful time when their beloved owners are away from home. Check out our article "Why Cats Hate Catteries"
I am a well organised, reliable, trustworthy person with a basic disclosure (police check) certificate and public liability insurance.
If you need cover at short notice, I will do everything I can to help. I know how life can sometimes take an unexpected turn.
I will meet with you prior to your trip to understand the routine and individual needs of your cats.
During each visit, I'll probably be down on the floor (!), playing with them and their toys (if they are receptive), making sure they're having fun and getting the required stimulation. Or if it's an elderly cat that just wants peaceful "lap time", then that's also fine!
I will change the food and water daily and will make sure any litter tray is kept meticulously clean and well maintained.
I can administer any medication with a heavy dose of TLC.
I give the best cuddles; I have big arms specially made for this! Your cats will be well & truly spoiled - and might not even notice your absence!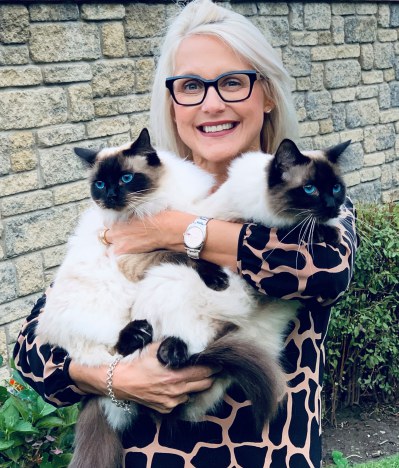 About me
I was born and bred in Scotland and live with my husband Ronnie and our two sons, Louis & Sam. In 1995 our first fur baby came to stay and she lived to the grand old age of 18. At the moment I am happily owned by 4 ragdolls – Jessie, Cooper, Sidney & Stanley. I believe that cats are like biscuits; one is never enough! Fortunately, all of our fur family live happily together although Jessie and Roxie rule the roost - like most females!
I enjoy keeping fit as I believe a healthy body promotes a healthy mind and helps us to deal with all of the challenges that life throws our way. I also need to be fighting fit looking after so many fur babies!
I worked in financial services for most of my life, in various positions of responsibility. I'm now in the fortunate position of being able to follow my passion of caring for cats. This has been a dream of mine for as long as I can remember.
My family and friends call me the "crazy cat lady". There are more pictures of my fur babies in my house than humans. When we go on holiday, I always seek out the local cats to feed them. It drives my family "nuts", but it's simply part of my DNA (and as I am a Leo, this makes total sense - since I'm part cat anyway!!).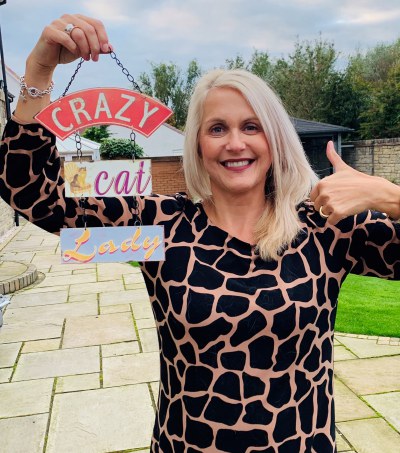 I'm proud to support a number of animal charities including SSPCA, Cats Protection (UK) and the Soi Dog foundation in Asia. The philosophies of these organisations really resonate with my personal values and beliefs. I believe that we should strive for a world where every animal is treated with kindness and respect and that they should never have to endure unnecessary suffering.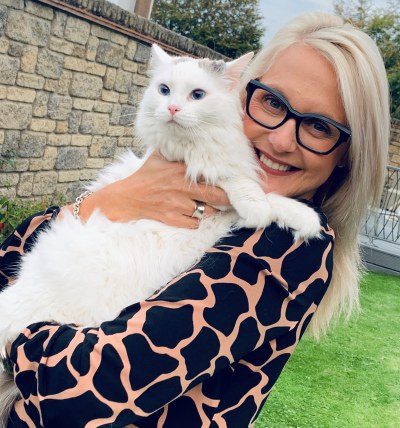 Contact Me Today!
If you want your cat(s) to have a lovely time whilst you are away, please get in touch with me today!
To contact me, please enter your full postcode in the form at the top of the "Home" page.
I look forward to meeting you and your cats very soon!
Best regards
Gina