Swindon Cat Sitting
I am Caroline MacDivitt, and along with my husband Kevin, we are devoted pet sitters and specialist cat sitters providing a very caring and professional pet sitting service and cat sitting service covering mainly central Swindon. My service is of outstanding quality!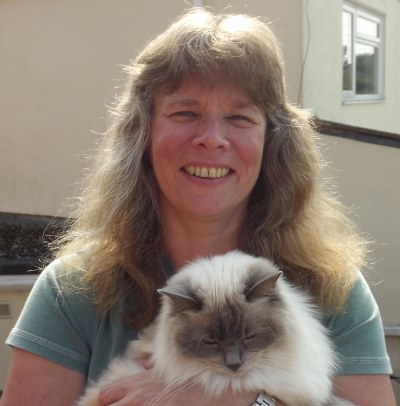 My Swindon Cat Sitter Reviews

Please check out my customer reviews by clicking the following link:

Swindon Cat Sitter Reviews

A little about me
My husband Kevin and I currently live in in the village of Wroughton, just outside Swindon. I was born in Wroughton and Kevin is from the village of Avebury. Although Wroughton is a fairly large village on the outskirts of Swindon, it has a close-knit community. In a previous life, I was a Legal Secretary for 22 years. We live with our 5 cats including tabby moggie mother Chloe and her half Siamese daughter KC, aged 16 and 15 respectively, a Ragdoll cross called Chester aged 3, and Ragdolls Frankie and Sookie both aged 2. (Frankie is actually short haired and has a lopsided tail, which makes him even more adorable, and as with most mothers and daughters, Chloe and KC do occasionally have their differences!).
I have had cats in my life for the last 30 years, and couldn't be without them. They all have their own distinctive characters, and the younger three are especially popular with everyone they meet!
Prior to getting Frankie and Sookie, we had a little Ragdoll kitten called Keva. Unfortunately, things didn't go well and from the day I got her she was poorly. After many visits to the vets along with a multitude of tests and medications, it turned out to be FIP (feline infectious peritonitis). This is a fatal, incurable disease that affects cats and is a mutated strain of the feline coronavirus. Everything that could be done was done for Keva, but very sadly we were left with absolutely no alternative but to have her put to sleep at the age of 6 months. This was totally devastating for Kevin and I, and since then I have taken a keen interest in FIP. I am now a active fundraiser in relation to FIP and donate the proceeds to Dr Addie at Glasgow University who is working hard on finding a cure for this horrible disease.
As many people in Wroughton will know, Kevin and I are both passionate about real ale! When Kevin and I have any spare time, we like to read, cycle and take off in our caravan. We used to enjoy camping, but there's a funny story in relation to how we started caravanning! At the time we got Keva, we had also paid a deposit for a little boy Ragdoll. However, when Keva was poorly it was impossible to bring this other kitten home. He didn't actually come to us until a month after we lost Keva, and when we went to collect him, we ended up coming home with his sister too - we absolutely couldn't resist her!!! The vets had advised us not to bring the kittens into the house, so we had bought a caravan for them to live in which was just outside the back of our property. So that's how we ended up with a caravan! We are also keen watchers of MotoGP and like to go to watch this when we can. We usually attend the UK race and have previously gone to the Czech Republic, Valencia and Aragon races.
Several years back, whilst out cycling one sunny afternoon, Kevin and I were involved in a road traffic incident and ended up being taken to Southmead Hospital in Bristol to the major trauma unit there (Kevin was actually airlifted there). Very luckily we recovered well from our injuries. However, this type of event does make you reflect on life, and that's how I decided to become a Home Loving Cats franchise owner for Swindon and surrounding areas! I visited the Supreme Cat Show for the first time in November and picked up a Home Loving Cats leaflet. I didn't actually read this until after Christmas but then when I did, I immediately became interested. After looking into this further I decided that caring for moggies and being my own boss made absolute sense. Kevin helps me with the business from time to time.
Why my Swindon cat sitting service benefits you and your cats
It's simply a fact of life that taking cats to a cattery can cause them lots of unnecessary stress. Please click on the link "Why Cats Hate Catteries" to appreciate the reasons why.
After having such a terrible experience with Keva, I do my absolute utmost to relieve my own cats of any stress. Years ago, I did have to take my old moggie, Muffy, to a cattery when she was young and at a time when I had no alternative, and I must say she wasn't impressed!

Cats like to be in familiar surroundings and when you travel away, it's great to know that your cats remain at home where they want to be. Knowing that they are being lovingly looked after by another "crazy" cat person like myself makes enjoying your holiday that much easier. After all, holidays are meant for relaxation – rather than worrying about how your cats are coping in the cattery!
I know when I am away myself, I like to be kept informed in relation to how my cats are faring, and likewise whilst you are away I will text or email you from time to time.

I am very experienced in giving all kinds of medications including insulin injections. (My other old cat, Mork, was diabetic for his last couple of years and I had to inject him twice daily). Be assured that if I were to have any concerns whilst you were away, I wouldn't hesitate in speaking with your vet and if necessary take it to the surgery, both for your and my peace of mind.
For a stress free holiday or business trip, and to ensure that your beloved cats are being cared for by someone who is themselves a loving, caring, and responsible cat owner, please get in touch today - and your cat will love you forever!
Kevin and I hope to meet you and your cats very soon.
To contact me, please enter your full postcode in the form at the top of the "Home" page.
Best regards
Caroline
(P.S. You can check my Facebook page by clicking THIS LINK).