Cardiff Cat Sitting
Hello to you and your cats! My name is Jenny Mead and along with help from my husband Steve, we are devoted pet sitters and specialist cat sitters providing a very caring and professional pet sitting service and specialist cat sitting service covering Cardiff including Penarth, Cogan, Llandough, Barry, Barry Island, Merthyr Dyfan, Palmerstown, Grangetown, Tremorfa, Roath, Cathays, Cyncoed, Lanedeyrn, Rumney, Llanrumney, Saint Mellons, Pentwyn, Pontprennau, Marshfield, Thornhill, Llanishen, Rhiwbina, Whitchurch, Morganstown, Tongwynlais, Pentyrch, Creigiau, Rhoose, Tredogan, Dinas Powys, Murch, Northcliffe, Canton, Llandaff, Gabalfa, Heath and surrounding locations.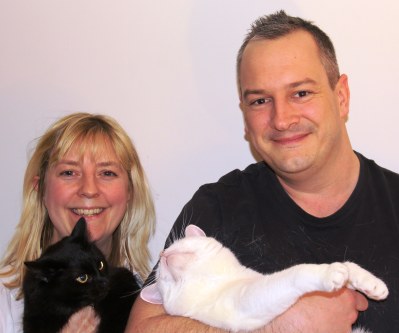 Our Cardiff Cat Sitting Reviews
Please check out our customer reviews by clicking the following link:
Cats Hate To Leave Home!
Cats are territorial animals and they really hate leaving home. If they are taken from their familiar home environment, they can become stressed, fretful, and depressed, and can sometimes stop eating for days at a time. This can cause their immunity to be lowered and they can be more susceptible to infections and illnesses. Using our service also eliminates travelling to and from the cattery and being subjected to cattery opening times which are not always convenient.
Check out our article Why Cats Hate Catteries.
When cats are in our care, they become our feline family, and you can be confident that they receive as much love and affection as our own cats. We try our best to maintain daily routines, and your cats may not even realise you are away!
About The 'Crazy Cat Lady'
For years I have been known as the "crazy cat lady" amongst my friends. But I don't mind!
I have always loved animals, especially cats, since I was young. I was first 'introduced' to cats and their amazing personalities when I was 6 years old and staying with my aunt. The farm she lived on had semi-domesticated cats that slept in the barns. I remember seeing my first kitten playing with a wool ball on some string and thought how wonderful it was to be able to be close to these beautiful creatures. From that point onwards I became an animal lover.
Unfortunately, I couldn't have cats at home when I was growing up but I do remember always stopping to say "hello" to various cats I saw in the street or enjoying fussing and stroking other people's cats.
When I left university, and came to live in Cardiff, I more than made up for this and I have had 7 cats in the last 15 years!
Steve was lucky to have grown up with cats in the household and at the age of 12 was able to see a litter grow at his neighbour's home. Steve and I eventually met at University in Manchester.
When we moved back to Cardiff and into our own house we met Moggy, a stray cat who choose us as his forever home. A beautiful ginger cat, he was tired and crying under our car. We brought him in and he fell asleep standing. He was absolutely exhausted. Moggy was my very first cat. Steve and Moggy together reassured me that Moggy wanted to be my friend. I have never looked back, my fate was sealed, and "the rest is history", as they say.
We love the presence of cats in our home, and apart from being very cute and adorable, it feels like they have become its soul. We love the companionship of cats as well as their warmth, independence and their different personalities
At the moment we share our house with 3 cats. They are our children but rule their palace.
Oscar (4) is a white shorthaired cat who loves Steve, his 'daddy'. He always comes to see him every night for a kiss and a stroke but he is known for his moods, which can last for days at a time. He was a stray being kept at the vets when I went to pick up some medication. He had been there for 3 weeks and I couldn't resist him when he gave me a friendly bite on being picked up.
Alfred (3) is a tabby and is our 'Little Peter Pan'. He doesn't seem to have grown up at all. He always wants to know what's going on, and when his ears go back, we know he is either listening or judging! Alfred greets us ever morning and evening with a squeak followed by a roll on his back as he waits for his tummy tickle.

Rose (2) is a longed hair black cat who is feisty and loves to talk. She always says "hello" when you speak to her and loves to show off her fluffy tail. When her brush is picked up, she knows it's time for pampering and showing off. She was so small when we got her but she needed a forever home and Oscar and Alfred soon helped her to adapt to the new home and family.
The TV rarely goes on. Who needs a TV when you have 3 cats to cherish and enjoy?
Why you and your cats will love our service!
Our service is very caring and extremely compassionate, and being "cat people", we have a great understanding of cat behavior.
We are of exemplary character and integrity and your home and contents will be safe with us. (We possess a Basic Disclosure Police Check and also public liability insurance).
We can react at short notice and assist you if you need arrangements put in place quickly. Bookings can be made for any length of time from one day upwards. If your return gets delayed for some reason, simply send us a text or email and we will continue to look after your cats until your return.
We are happy to feed goldfish and care for other low maintenance pets.
Visits are discrete. There is no branding or advertising on our cars or clothing.
In the very rare event that your cat is unwell, we will consult a vet and if necessary, take the cat to the surgery. (If necessary, we will pay the vet bill on your behalf).
As well as feeding your cats and providing fresh water (always in washed, clean and dried bowls), they will receive lots of personal attention and plenty of cuddles. If they like to be groomed, then we will brush them as well. Litter trays will be maintained to a scrupulously high level of hygiene.
We can send a text or email to let you know how everything is going. This will help you to be relaxed and enjoy your time away safe in the knowledge that your cat is content and happy.
Unlike general pet sitters, we only look after cats so we won't arrive smelling of 'dog'! (which causes stress to some cats).
"Who you see is who you get". We will personally attend to your cat. We do not have any employees (who generally tend to be less reliable and less responsible). So it is guaranteed that a passionate cat lover will look after your cat.
We have over 20 years experience looking after our own cats.
Before using our service for the first time, we will arrange a "free of charge" meeting. At this initial meeting, we can run over the arrangements with regard to food, routines, particular likes and dislikes, medication etc, and collect a set of keys.
Our service is available 7 days a week including the usual busy holiday periods including summer, Easter, Christmas and public holidays.
Our service is utterly reliable and we never let you or your cats down.
We will always go "above and beyond the call of duty" to help our customers if we possibly can.
We will water houseplants, remove mailings from your letterbox, and give your house that "occupied" look by turning on various lights and adjusting curtains. Refuse bins can be put out prior to collection day and brought back to the house.
You Can Really Depend On Us!
We can't wait to look after your cat(s)! We absolutely adore cats and their individual personalities fascinate us. They are truly beautiful in every respect. They are each different, yet fundamentally the same. We feel privileged to be "servants" to your cat(s) – and we take pride in providing a totally reliable, loving, fastidious and responsible service to the cats and cat owners of Cardiff.
Contact Us Today!
If you want your cat(s) to have lots of fuss, playtime, laptime, general pampering, and a lovely time whilst you are away, please get in touch with us today!
To contact us, please enter your full postcode in the form at the top of the "Home" page.
We hope to meet you and your cat(s) very soon!
Best regards
Jenny and Steve Mead