Fylde Cat Sitting
Hello! My name is Rachel, a devoted pet sitter and specialist cat sitter providing a very caring and professional pet sitting service and specialist cat sitting service covering the Fylde including Blackpool, Poulton-Le-Fylde, Fleetwood, Saint Annes, Lytham St. Annes, Lytham, Thornton, Hambleton, Kirkham and surrounding locations.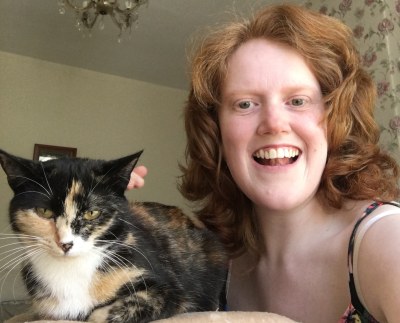 My Fylde Cat Sitting Reviews
These can be viewed by clicking the following link:
How I became cat mad!
I live on the Fylde with my mum and our four cats. I have lived here since I was around one year old with spells of living away whilst studying zoology at university, and whilst working away from home.
I love living in close proximity to more rural areas of the Fylde, the countryside, and also the seaside joys of Blackpool!
I've grown up with cats around; some of my earliest memories are of playing with our neighbours' cats, a long haired black and white cat called Jacko and a ginger tom called Truffles. Our first two family cats were both from the RSPCA. Tiddles (a black and white girl) confirmed my love of, and interest in animals (especially cats!). Whisper, (a white lady) was quite grumpy when we first adopted her, but with patience, love and care, she gradually improved. However, she was still prone to a little "PMT" every now and again!
I did volunteer work at Easterleigh Animal Sanctuary whilst at school, so it was a natural choice for us to go there to look for a new cat in February 2015. A beautiful Tortoishell and white kitten, (now called Calli) chose us. Calli was shy and utterly terrified when she first came to live with us. She spent her first three weeks hiding in the back bedroom, but started to come out of her shell with the help of tuna treats, lots of toys, reassurance, food and love. She now likes to sit on my knee, whilst being tickled under the chin and she spends every night on my bed with me!! During the summer of 2015, Calli managed to escape while we were having some work done in the house. She was out for two nights, and nine weeks later, had three beautiful kittens: Aurora (a ginger and white Tom), Domino (a white and black lady) and Minni (a Black and white Tom). The kittens are just so cute that we couldn't bear to be parted from them, so we now have a beautiful and happy cat family of four! Everyone (including Mummy Calli) has been neutered, so no more accidents can happen!
A little more about me
In my spare time, I enjoy singing in my local church choir, and rowing on the river Lune up in Lancaster.
I am also a committee member of the Preston and Blackpool cat club, helping to organise the annual cat show.
After graduating in 2007, I lived at home for a while, before moving up to Edinburgh for 6 months, after which I was in Oxfordshire for almost 3 years. In 2013 I started working at Manchester University and since I didn't fancy city life again, I moved back home to the Fylde and spent 3 hours a day commuting to and from the university. This meant that my work/life balance was a little skewed and when I found out about the fantastic opportunity a Home Loving Cats franchise could offer me, I made a decision and haven't looked back since. Caring for all my cat friends in combination with running my own business is truly a dream come true!
Why your cat will love my service!
Cats are territorial animals and they really hate leaving home. If they are taken from their familiar home environment, they can become stressed, fretful, and depressed, and can sometimes stop eating for days at a time. This can cause their immunity to be lowered and they can be more susceptible to infections and illnesses. Check out our article Why Cats Hate Catteries.
When your cat or cats are in my care, you can be confident that I will treat them like one of my own, giving them as much love and affection as their personality will tolerate. I make allowances for different temperaments and personalities, and try my best to maintain their day-to-day routines. In fact, they may not even realise you are on holiday!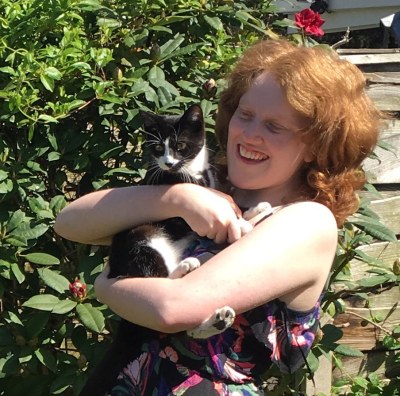 Why you will love my service!

My service is caring and compassionate, and I am truly a "cat" person.
Because I specialise in cats only, unlike "general" pet sitters I do not arrive smelling of "dog" (which can stress many cats).
I take my duty of care extremely seriously.
My service is fantastically reliable and I never let my customers down.
I always "go the extra mile" to assist my customers in every way I possibly can.
I will take your cat to the vets if it becomes ill (and if necessary, I will pay the vet bill on your behalf).
I am available over most of the main holiday periods and most weekends.
I will water houseplants, remove mail and newspapers stuck in your letter box, and adjust lighting and curtains to give the impression that your house is occupied. I am also happy to put out and bring back refuse bins if you let me know what day collections are made. I am of impeccable character and integrity and your home and possessions are safe in my care. (I possess a Basic Disclosure Police Check and carry public liability insurance).
With the current hectic pace of modern life and the availability of cheaper flights, travel is often arranged at the very last minute - so I pride myself on being able to react at short notice. Many of my existing customers regularly telephone to say that they are off somewhere the next morning! My flexibility, my fast response time and my reliability, are three of the many reasons why Home Loving Cats have so many happy customers who like to travel, along with so many happy cats who like to stay in the comfort of their own homes! There is no minimum booking period; you can use the Home Loving Cats service for any period of time from one day upwards.
And most importantly, cats receive the very best care, attention, cuddles and re-assurance. This gives you peace of mind so that you can relax whilst you are away.
Contact Me Today!
If you want your cats to have lots of fuss, playtime, general pampering, and a lovely time whilst you are away, please get in touch with me today!
To contact me, please enter your full postcode in the form at the top of the "Home" page.
Love, Rachel.