Cornwall West Cat Sitting
My name is Emma Kendall, a specialist cat sitter providing a very caring and professional pet sitting service and specialist cat sitting service potentially covering (but please check with me to see whether I am currently covering your particular location) West Cornwall including Troon, Camborne, Hayle, Redruth, Truro, Angarrack, Ventonleague, Copperhouse, Saint Erth, St Ives, Carbis Bay, Lelant Downs, Penzance, Eastern Green, Alverton, Newlyn, Mousehole, Long Rock, Porthleven, Helston, Gweek, Constantine, Mawnan Smith, Swanpool, Praze-an-Beeble, Goldsithney, Perran Downs, Perranuthnoe, Marazion, Mullion, Saint Keverne, Falmouth, Carharrack, Saint Day, Blackwater, Chacewater, Threemilestone, Saint Newlyn East, Perranporth, Mount Hawke, Paynters Lane, Portreathand surrounding villages and communities.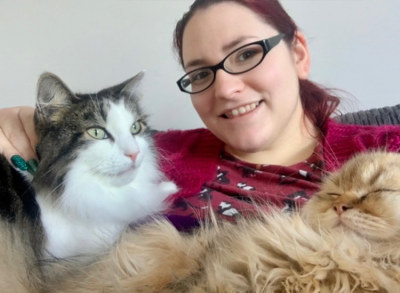 West Cornwall Cat Sitting Reviews
I'm delighted to have taken over from Jackie who is now enjoying a well-earned retirement and her daughter Amber. Please check out previous Home Loving Cats customer reviews by clicking the following link:
West Cornwall Cat Sitting Reviews
About Me
I have lived my whole life in Cornwall apart from one year where I travelled the world and spent time in South Africa caring for cats much larger than the ones I care for now! I grew up around cats, and when I moved out of my family home, I only lasted a month before getting a cat. Eight years later and I am now the proud servant of five beautiful cats – Castiel, Kenya, Chaia, Truffle, and Moonbeam – each with their own funny and unique personalities. Castiel is a mother hen, Kenya is naughty and sweet, Chaia is a gentle giant, Truffle loves playing fetch like a dog, and Moonbeam enjoys catching bugs in the garden and releasing them in the house. They have got me through the hardest times in my life with their unconditional love. People often call me the Cat Lady which is a title that I wear proudly!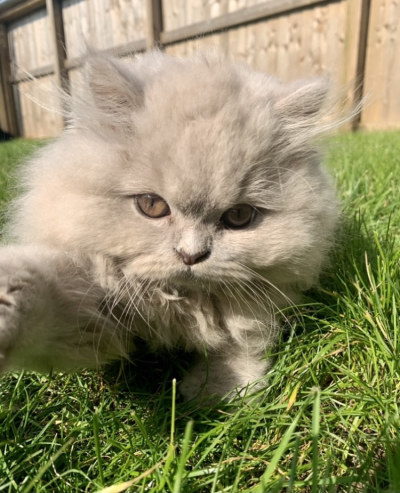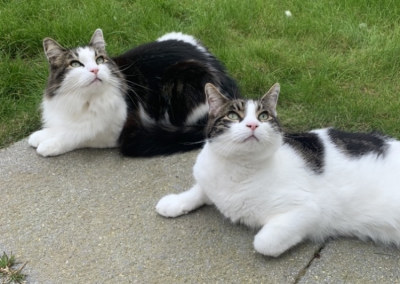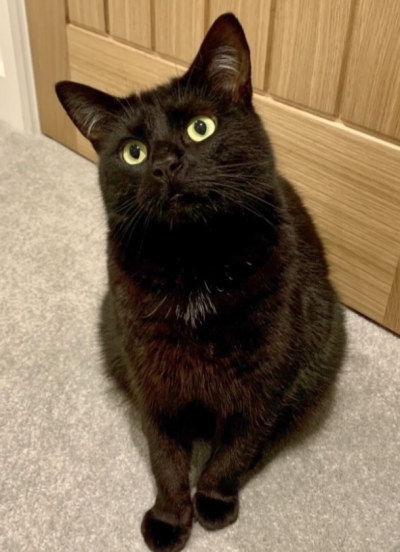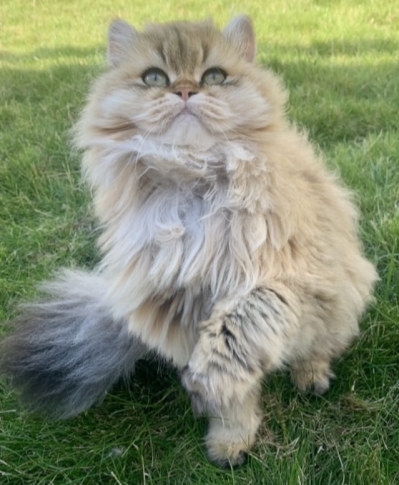 (If you would like to offer a home to a cat in need, you might wish to take a look at the Cats Protection Cornwall Adoption Centre based at Truro, the National Animal Welfare Trust at Hayle, The Cinnamon Trust at Hayle, and the Cornwall Siamese Cat Rescue/St Anne's Cat Rescue Centre near Hayle).
My previous career
Most of my adult life has been spent working as office support for the emergency services where I have had the opportunity to help people at difficult times in their lives. It has been an important part of my life and remains something of which I am very proud. However, my passion in life is cats: my cats, other people's cats – and your cats! Over recent years I have learned that life is too short to do what doesn't bring you joy. Cats bring me joy, and so I started my own cat sitting business called Cornish Kitty Care which allowed me to meet and look after many cats in their homes while their humans were away, ensuring top quality care for the cats and peace of mind for the humans! I am excited to bring my experience to the Home Loving Cats family and to meet more cats in our beautiful part of the world.
Why I stopped using a cattery
Like many people I used catteries in the past, but it didn't take me long to realise that whether they called themselves a "cat hotel" or described themselves as "a home away from home"…my cats were always happiest at home in their own familiar surroundings. My first time hiring a cat sitter was eye opening. My cats were so much happier when I got home! Instead of hiding away or going off their food, they greeted me at the door with purrs and upturned tails. I vowed to never use a cattery again, and I haven't. Please check out our article "Why Cats Hate Catteries".
Benefits of using my service
My service includes the following:
A "meet and greet" with you and your cats so that I can get all the information I need to give them the best possible care. Your details and keys will be stored securely.
I am DBS checked and fully insured.
I will send you regular updates about your cats to give you peace of mind.
NOT just a 10 minute drop-in. I will spend quality time with your cats ensuring that they have clean bowls to eat from, that their litter trays are cleaned to a high standard, and that they have play and enrichment, as well as cuddles and snuggles - if they want them!
I can administer oral medication as necessary.
I understand cat behaviour and body language so I am attuned to their likes and dislikes or any changes in their health. If necessary, I will take them to their registered vet and keep you updated at all times.
I will treat your home and your cats with the utmost care and respect.
I can offer additional services such as putting the bins out, picking up post, and watering plants.
I can care for other small pets alongside your cats such as rabbits or hamsters.
I am extremely flexible. If your flight home is delayed or you take a last minute weekend break – no problem! Just let me know and I will be there for your cats.
Contact me today for a no obligation quote!
I look forward to spending time with your lovely cats!
If you want to enjoy real peace of mind whilst you are away from home, and to receive a "no obligation" quote by email, please enter your full postcode in the form at the top of the "Home" page and then complete my very short enquiry form.
Best regards
Emma