Cornwall West Cat Sitting
My name is Jackie Keetch, a devoted pet sitter and specialist cat sitter providing a very caring and professional pet sitting service and specialist cat sitting service covering West Cornwall including Troon, Camborne, Hayle, Angarrack, Ventonleague, Copperhouse, Saint Erth, St Ives, Carbis Bay, Lelant Downs, Penzance, Eastern Green, Alverton, Newlyn, Mousehole, Long Rock, Porthleven, Helston, Gweek, Constantine, Mawnan Smith, Swanpool, Praze-an-Beeble, Goldsithney, Perran Downs, Perranuthnoe, Marazion, Mullion, Saint Keverne, and surrounding villages and communities.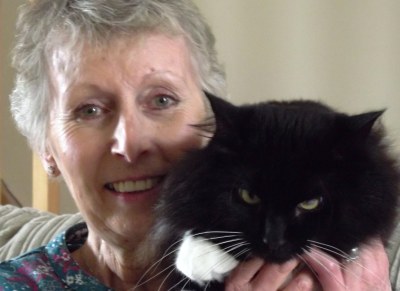 My West Cornwall Cat Sitting Reviews
Please check out my customer reviews by clicking the following link:
West Cornwall Cat Sitting Reviews
My love of cats and animals guarantees superb care for your cat!
My love of cats stems from early memories of the tortoiseshell mousers and ratters who earned their keep on the family farm in Devon; not for them a cosy farmhouse fireside….their beds were hay bales in the barn. I would often find a warm huddle of new-born kittens in the sweet-smelling mountains of hay!
When I was a child, a mystery lady lived in a huge, run-down house next to my school. She had so many cats I doubt she knew how many she had! I never did meet her, but I would sneak milk bottles from the crates at break time, explore her garden and put down milk for the cats when I could. As at the farm, I would find kittens; this time behind weather-beaten boards leant against the buildings and in all sorts of odd outdoor spaces. It felt like my mission in life to help every cat and kitten I could!
I was lucky to be born into idyllic surroundings where the pace of life was dictated by country pursuits. I woke with the dawn many times and was fortunate enough to see new life had sprung up seemingly overnight. I was desperate not to miss the egg collecting or the seemingly magical birth of a new calf. My grandmother seemed austere but she always had time for me and taught me so much. She "ruled the roost", so to speak, and was a brilliant gardener.
From my early days I realised that success meant loving what you do on a daily basis. For me personally, now as then, happiness means love, freedom and fulfilment, time to be creative, time to discover nature, time to spend time with animals and friends, and time to just sit and watch the hilarious antics of cats.
When I left school I went to secretarial college and this has proved very useful over the years, but my day-dreams always featured me caring for animals or working as a veterinary nurse. At one point I was lucky enough to land a job in a busy veterinary practice which was amazing. Working on reception and meeting new clients and their 'babies' was always rewarding and gratifying for me. I thoroughly enjoyed all aspects of the job, and although most of the days were very joyful, there were occasional moments of heartache too. One of the most important things I learnt was an appreciation of how incredibly essential it is when caring for family pets, to put the pet owners at ease and give them peace of mind.
A further insight into me and my family
I met my hubby Robi at my vet work! He was a taxi driver and would ferry clients and their pets to the surgery. Also a big softie where pets are concerned, we have always had (probably too many?) cats and dogs. After having two sons, we decided to move to Cornwall and soon thereafter our daughter was born and we felt our family was complete.
During our time in Cornwall whilst the children grew up I was lucky enough to work with animals again in a rescue centre, boarding kennel and cattery. These environments can be an emotional roller-coaster ride and such work is not always easy. You have to focus on the positive differences you can make and savour the many rewarding moments. If you would like to offer practical help yourself at a rescue centre or simply make a donation, there are always opportunities no matter where you live. You might wish to take a look at the Cats Protection Cornwall Adoption Centre based at Truro, the National Animal Welfare Trust at Hayle, Canine Crusaders, The Cinnamon Trust at Hayle, and the Cornwall Siamese Cat Rescue/St Anne's Cat Rescue Centre near Hayle.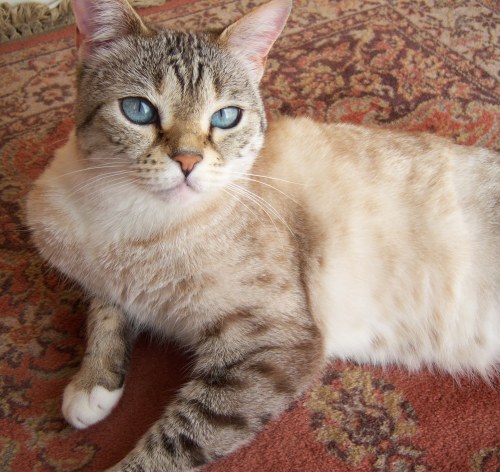 Over the years we have taken on many rescue cats and dogs as a family. Our children all have pets in their own homes now. Growing up with pets has helped shape their personalities and helped turn them into the warm, kind, caring adults they now are. Each has learnt to deal with difficult situations and vital life-skills have been learnt including how to empathise and show courage.
We are now very settled into a lovely village community with our rescue pets - a blue-merle Sheltie called Sheldon and Mr Humphreys, a huge black and white, semi long-haired cat. Mr Humphreys doesn't really like sharing his garden space, and much to his dismay one or two neighbouring cats like to seek it out and bask in the sunny corners whilst contemplating their next meal. As Mr Humphreys will tell you (most vociferously), most of the time cats really don't like to share their territory! Whilst Sheldon and Mr Humphreys are safe and secure, I still can't bear to think that there are homeless, vulnerable cats out there that could be cold or hungry!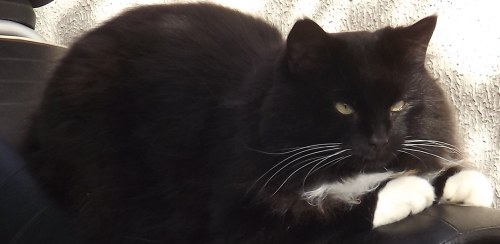 Our daughter bought us a sign for our new home recently which read: 'A Home Without a Cat is Just a House'
I really cannot think of a more apt sentiment…….
Contact me today for a no obligation quote!
I really look forward to each day so that I can visit and care for my many feline friends in West Cornwall. I maintain their daily routines and help keep them safe, secure, clean, warm and well fed. This means that you can enjoy your travels safe in the knowledge that back at your home it is..................… business as usual for our furry feline friends!
If you want to enjoy real peace of mind whilst you are away from home, I'll be happy to send you a "no obligation" quote by email.
To contact me, please enter your full postcode in the form at the top of the "Home" page.
See you soon!
Best regards
Jackie