Milton Keynes & Aylesbury Cat Sitting
We are Mike and Tracy Howells, devoted pet sitters and specialist cat sitters providing a very caring and professional pet sitting service and specialist cat sitting service covering the MILTON KEYNES area including Buckingham, Newport Pagnell, Stony Stratford, Woburn and Newton Longville, along with (from 18th September 2020) the AYLESBURY area including Haddenham, Waddesdon, Stoke Mandeville, Quainton, Bierton, Weedon, Whitchurch, Oving, Stone, Dinton, Wendover, Walters Ash, Prestwood, Cuddington, Great Missenden, Princes Risborough, Monks Risborough, Naphill, Weston Turville, Winslow, Fairford Leys, Thame, North Marston, Wingrave, Bryants Bottom, Buckland and surrounding locations.
Here is Tracy with Tiger...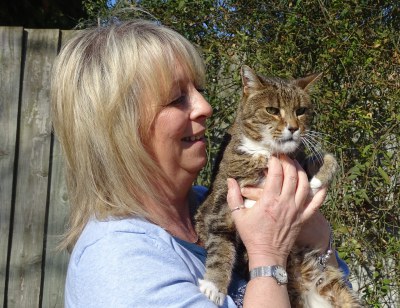 and Mike with Magic...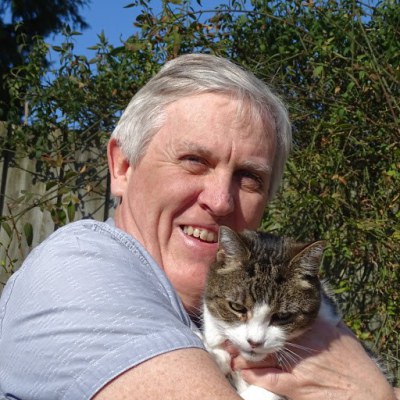 Our Cat Sitting Reviews
Please check out our customer reviews by clicking OUR CAT SITTING REVIEWS.
How our love of cats started
Mike grew up in South Wales and had a very outdoor idyllic childhood, roaming the hills and valleys. His father worked for Pilkington Glass, and there were many cats in the factory! When Mike was very young, his father brought home a kitten (named Noddy) that he had been feeding at work. Noddy was a fantastic black and white cat, with an amazing, gentle temperament. There were hamsters and budgies in the household, and Noddy would just sit quietly and watch them. He also loved sitting in front of the fire, and it was not unusual to see him almost catch fire! He lived to a good age, and was a very much-loved member of the family. Tracy has cared for a huge menagerie of animals from a young age – her mum worked in a pet shop for a time – even looking after an injured squirrel until it was well enough to go back to the woods.
To provide customers with total peace of mind, both Mike and Tracy have basic disclosure police checks and public liability insurance - so your home and possessions are absolutely safe in their care. When Tracy and Mike first met, Tracy had a beautiful white cat called Brandy - and it was fortunate that Mike was very quickly given Brandy's seal of approval! Brandy loved to play with a ball or a length of string. Sadly, Mike and Tracy lost Brandy early in his life to a serious illness. He was such a character and he is missed to this day. Just look at these photos to see how gorgeous he was!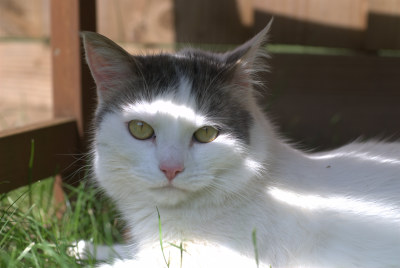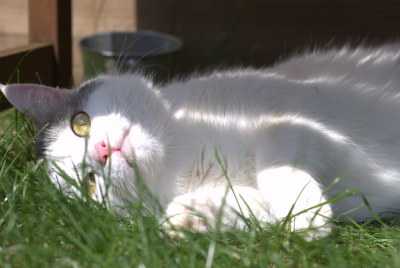 How we gained our cat family - and how you can do the same…
For about 2 weeks thereafter we weren't in the right frame of mind to have any more cats. Then we decided to go and look at some kittens at Cats Protection. (Of course), we knew how this was likely to turn out! Predictably it was love at first sight, and so we adopted sister and brother Magic and Tiger. That was ten years ago, and after what was clearly a difficult start in life for them, they turned into an amazing and affectionate pair of cats. Sadly, in early 2019 Tiger passed away with a serious heart condition. He will never be forgotten.
Here he is....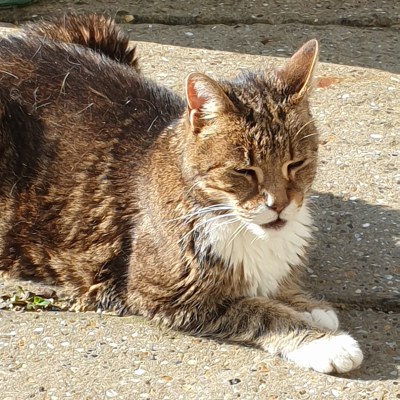 and this is Magic....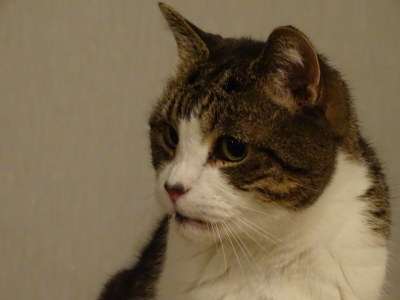 If you wish to offer that "forever" home to a cat or cats in need, you might want to click either of the following links to take you to the websites of Cats Protection Milton Keynes and Cats Protection Shenley, Newport Pagnell & Great Linford.
Our realisation that most cats don't like catteries
We got married in Greece, and all our friends and family came with us. This meant we had to find somewhere for Magic and Tiger, and we chose a very nice cattery. However, when we picked them up 2 weeks later, they were not in a good way – it was totally obvious that they had not enjoyed their time. To check out the reasons for this, please click on our article "Why Cats Hate Catteries".
We vowed never to leave them at a cattery ever again. And that's when we found Home Loving Cats in Aylesbury, in the guise of the amazing Pat Parish. We had some initial reservations and preconceptions about the service - until Pat came to meet Magic and Tiger. We have now used Home Loving Cats for several years. Magic and Tiger are always pleased to see us when we return from a holiday (or we should say we convince ourselves that's the case!), but it's absolutely clear that whilst we have been away, they have been happy and relaxed in the familiar surroundings of their own home. Finding out about the marvellous Home Loving Cats service didn't just provide a solution for our own cats when we travelled, it gave us the opportunity to start our own Home Loving Cats business in the territory adjacent to Pat - so now we have the daily privilege of helping lots of cat owners and their cats in Milton Keynes and surrounding locations.

And here is an update as of September 2020…
Pat Parish has now moved house to the Durham area and is continuing her Home Loving Cats cat sitting business in that area. Consequently, we are now looking after Pat's existing customers in the Aylesbury area in addition to our own customers in the Milton Keynes area.
Why our cat sitting service greatly benefits your cats!
Our aim is to look after your cats as if they were our own. We are caring and conscientious. Getting to know them in their own environment, and learning about their little routines is very important. As well as the basics of food, water and litter trays, we will spend quality time with your cats, doing whatever they enjoy the most – play, grooming, laptime or just relaxing in their company. This means that whilst you are away, you can be absolutely and totally reassured that your cat is safe, happy, and very well cared for.
Periodic updates while you are away is part of our service (via text message, email or WhatsApp). We am also very happy to attend to other simple tasks while you are away, such as putting out bins and watering plants, etc.
Contact Us Today!
If you want your cat(s) to have lots of fuss, playtime, laptime, general pampering, and a lovely time whilst you are away, please get in touch with us today!
To contact us, please enter your full postcode in the form at the top of the "Home" page.
We hope to meet you and your cats very soon!
Best regards
Mike & Tracy