Pet Sitting Franchise

Our outstanding pet franchise opportunity is for cat lovers. Check out our video below:
If you are passionate about cats, and feel that you are organised enough to run a professional pet sitting franchise, you could earn an exceptional living with your very own Home Loving Cats pet franchise specialising in cats.

You will have heard the saying "Choose to do something you love, and you will never have to work another day." In these challenging economic times, this has never been truer, as it can be difficult for individuals and couples to maintain their standard of living and at the same time do work of a fulfilling nature.

As the owner of a pet sitting franchise, you need to be mature, out-going, friendly, pleasant and a confident communicator. You also need to be extremely well-organised, fit, mobile and a car driver. It also goes without saying that you need to be of impeccable character and integrity. (PLEASE SCROLL DOWN THIS PAGE FOR FURTHER INFORMATION).
Pet Sitting Franchise Benefits

The Home Loving Cats pet sitting franchise (specialising in cats) offers a range of outstanding benefits including:

Large exclusive territory.

Very low monthly royalty fee and no upfront franchise fee.
The right to use the Home Loving Cats brand.

A presence on the Home Loving Cats corporate website along with the powerful resultant exposure. The website includes postcode functionality which provides enquirers with the contact details of the franchisee covering their location.

Unique, state-of-the-art bespoke operational software to manage the business. You will be able to create contacts, find contacts, update contact details, send quotes and other emails, create bookings, amend bookings, check the booking schedule, as well as checking fee totals and other financial information. This can be accessed when you are on holiday anywhere in the world.

Business-standard email system.

Access to the company Operations Manual – both hard copy and online (currently over 130 pages).

Personal, continuous on-going help, guidance and support from experienced business operators who actually run the business themselves and who have a proven track record of success over the last 10 years.

Branded marketing business cards.

The company conducts a range of both online and offline PR initiatives including a presence at the annual Supreme Cat Show (held at the NEC Birmingham each year) to raise the profile of the website and the Home Loving Cats brand. The franchise has also been featured in the Daily Mail.

Supportive contact (via internal blog) with fellow franchise owners as the network expands.
Our standards are high, but as long as you are fit and mobile, and have a passion for running a pet sitting business, we do not consider age to be a limiting factor. Indeed, a Home Loving Cats pet franchise can become a substantial ongoing "pension" as you enter your later years!
Territories are being taken up very quickly by business-minded cat lovers who feel that they have the personal and organisational skills to operate a Home Loving Cats pet sitting franchise.
If you have not already done so, please type your postcode into the box in the top right corner of this web page to check whether your area is still available or not. Should the contact details of the local carer be displayed, this means that your area is already taken, and you would therefore not be able to take things any further.
However, if an onscreen message confirms that no Home Loving Cats pet sitter covers your location, you will be able to request a detailed prospectus of information (which answers a range of questions in relation to this pet franchise opportunity) by completing the form at the bottom of this page and clicking the "submit" button.
We look forward to hearing from you soon!
Best regards
Paul & Yolanda Ravenscroft
Founders
Home Loving Cats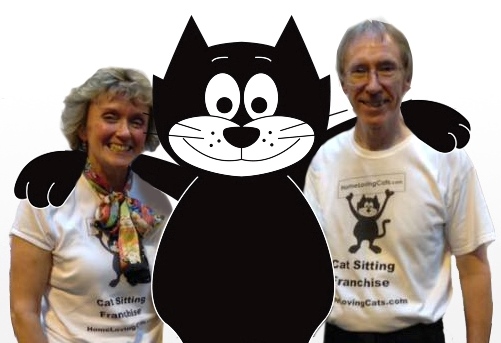 Yolanda and Professor Noel Fitzpatrick