Pet Sitting Franchise

Our outstanding pet franchise opportunity is for cat lovers. Check out our video below:
If you are passionate about cats, and feel that you are organised enough to run a professional pet sitting franchise, you could earn an exceptional living with your very own Home Loving Cats pet franchise specialising in cats.

You will have heard the saying "Choose to do something you love, and you will never have to work another day." In these challenging economic times, this has never been truer, as it can be difficult for individuals and couples to maintain their standard of living and at the same time do work of a fulfilling nature.

As the owner of a pet sitting franchise, you need to be mature, out-going, friendly, pleasant and a confident communicator. You also need to be extremely well-organised, fit, mobile and a car driver. It also goes without saying that you need to be of impeccable character and integrity. (PLEASE SCROLL DOWN THIS PAGE FOR FURTHER INFORMATION).
Pet Sitting Franchise Benefits

The Home Loving Cats pet sitting franchise (specialising in cats) offers a range of outstanding benefits including:

Large exclusive territory.

Very low monthly royalty fee and no upfront franchise fee.
The right to use the Home Loving Cats brand.

A presence on the Home Loving Cats corporate website along with the powerful resultant exposure. The website includes postcode functionality which provides enquirers with the contact details of the franchisee covering their location.

Unique, state-of-the-art bespoke operational software to manage the business. You will be able to create contacts, find contacts, update contact details, send quotes and other emails, create bookings, amend bookings, check the booking schedule, as well as checking fee totals and other financial information. This can be accessed when you are on holiday anywhere in the world.

Business-standard email system.

Access to the company Operations Manual – both hard copy and online (currently over 130 pages).

Personal, continuous on-going help, guidance and support from experienced business operators who actually run the business themselves and who have a proven track record of success over the last 10 years.

Branded marketing business cards.

The company conducts a range of both online and offline PR initiatives including a presence at the annual Supreme Cat Show (held at the NEC Birmingham each year) to raise the profile of the website and the Home Loving Cats brand. The franchise has also been featured in the Daily Mail.

Supportive contact (via internal blog) with fellow franchise owners as the network expands.
Our standards are high, but as long as you are fit and mobile, and have a passion for running a pet sitting business, we do not consider age to be a limiting factor. Indeed, a Home Loving Cats pet franchise can become a substantial ongoing "pension" as you enter your later years!
Territories are being taken up very quickly by business-minded cat lovers who feel that they have the personal and organisational skills to operate a Home Loving Cats pet sitting franchise.
If you have not already done so, please type your postcode into the box in the top right corner of this web page to check whether your area is still available or not. Should the contact details of the local carer be displayed, this means that your area is already taken, and you would therefore not be able to take things any further.
However, if an onscreen message confirms that no Home Loving Cats pet sitter covers your location, you will be able to request a detailed prospectus of information (which answers a range of questions in relation to this pet franchise opportunity) by completing the following form and clicking the "submit" button.
We look forward to hearing from you soon!
Best regards
Paul & Yolanda Ravenscroft
Founders
Home Loving Cats
CORONAVIRUS UPDATE 2021
The current coronavirus situation is clearly unprecedented. People across the world are quite rightly concerned and focused on the issues it is raising. After the government "lockdown" of recent weeks which encourages less social contact, business people owning "bricks and mortar" businesses such as shops, hairdressers, cinemas, coffee shops, pubs, restaurants, gyms, etc, face the very bleak prospect that almost overnight, they will have emptier premises and fewer customers.
Bear in mind that most traditional "bricks and mortar" businesses that operate from conventional business premises have to fund a massive range of overhead expenses, many of which relate to premises and staff. These can amount to many tens of thousands of pounds and include rent (or purchase) of premises, rates, buildings insurance, staff salaries, advertising, stock, equipment, etc, and invariably individuals will have to arrange loans and perhaps re-mortgage their homes to raise the relatively large amounts of money needed to fund such ventures. These sorts of businesses were therefore already very high risk even before the coronavirus crisis.
By comparison, the Home Loving Cats business model is incredibly low risk, and a home-based Home Loving Cats franchise owner only has to fund the monthly royalty fee along with some relatively low-level expenses. Also, Home Loving Cats does not charge any kind of upfront franchise fee (whereas most franchises do charge a significant upfront franchise fee).
A cat sitting service is incredibly well placed (compared to most other businesses) to withstand any challenges that may lie ahead because of the coronavirus. Many businesses (such as shops, hairdressers, cinemas, coffee shops, pubs, restaurants, gyms, etc), along with schools, factories, offices and other places of work, clearly function by way of people coming together. By contrast, a Home Loving Cats franchise owner can get into their car, drive to a customer house, go into the house to care for the cats, get back into the car, and drive home again - without coming into contact with a single human being. Home Loving Cats franchise owners are therefore very well placed compared to most "conventional" businesses". Indeed, because of the above factors, the already very successful and robust Home Loving Cats business model now becomes additionally "future-proofed" in this coronavirus-dominated world in which we all have to live from now on.
Whilst perhaps the great majority of people may well wish to avoid air travel and foreign holidays for the foreseeable future, there is absolutely no doubt that (especially after the almost "prison like" confinement of lockdown), a great many people will wish to travel and they will do so by simply switching from foreign destinations to UK destinations. (We are seeing this even now as some franchise owners are beginning accumulate bookings for the next few months and beyond).
This means that all Home Loving Cats franchise owners remain primed and prepared for a (very bright) medium and long term future - in which there will always be cats and there will always be cat owners looking to travel and take frequent holidays (once we are back to normality).
The fact is that this situation will pass at some point. When the coronavirus does start to become a distant memory (and it will), there will be a pent-up demand and desire for high numbers of people to take much needed holidays and to catch up on all the travel they had previously planned but had to cancel, and to catch up on "friend and family" time all around the country.
And that will signal a sustained period of bonus/bonanza time for our franchise owners!
The coronavirus crisis will result in:
Many more people looking for a "job"
(Because many businesses will no longer exist), there will be fewer "jobs" available
The result?
Unfortunately, more people chasing fewer jobs!!
There has never been a better time to determine your own destiny!
Check out the Home Loving Cats cat sitting opportunity now by completing the following form!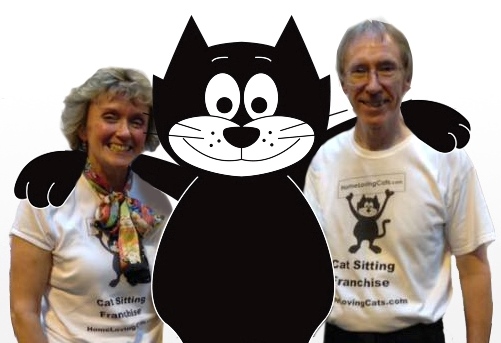 Yolanda and Professor Noel Fitzpatrick