Sutton & Epsom Cat Sitting
Hello. My name is Andrew Dawson, a devoted pet sitter and specialist cat sitter providing a very caring and professional pet sitting service and specialist cat sitting service covering Sutton, Epsom, Banstead, Belmont, Carshalton, Cheam, Ewell, Morden, Worcester Park, Wallington and adjacent areas.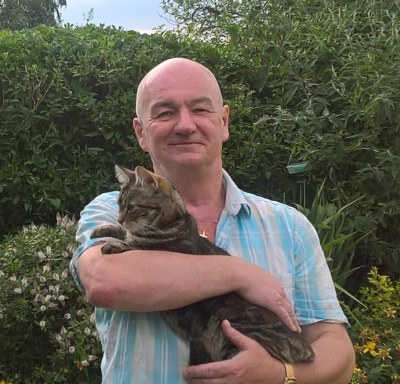 My Sutton & Epsom Cat Sitter Reviews
Please check out my customer reviews by clicking the following link:
Sutton & Epsom Cat Sitter Reviews
Why use my cat sitting service?
Cats Protection put it very simply as "the best solution for most cats".
Why?
Because in a phrase: Cats like to stay at home!
Please read our article on "Why Cats Hate Catteries".
What does my service provide?
I only care for cats. So Tiddles, Felix, Oscar and Cindy won't smell a Rottweiler when I arrive!
I do ALL cat visits myself. I am very reliable, conscientious, respectful and caring with regard to both your cat and your home.
I possess a Basic Disclosure (i.e. a police check) and hold specialist pet sitting insurance
I will do all the obvious practical things such as putting down food and fresh water in clean bowls, and maintaining meticulous levels of litter tray hygiene.
Over and above doing the practical things in relation to food and litter, whilst you are away I will be your cat's best friend!
Regardless of whether your cat likes cuddles, "lap" time or "play" time, I will ensure that it feels secure, happy and cared for, and I will give your cat as much of my company as my schedule will reasonably allow. In fact, your cat might not even notice that you are away!
(In the very rare event) that your cat becomes unwell, I will seek advice from a vet (your own if available), and should it be necessary, I will not hesitate to take it to the vets. (Should you be contactable, I will keep you fully informed if at all possible).
I am happy to attend to additional requests such as watering plants, putting bins in/out, opening/closing curtains, switching lights on/off, etc.
About me
I live in North Cheam with my wife and daughter. My daughter is also a passionate cat lover and I allow her to assist me from time to time on the occasional visit. I was born on a farm in North Yorkshire so I've been around animals all my life. However, I have always had a great affinity with cats in particular - but then again who wouldn't?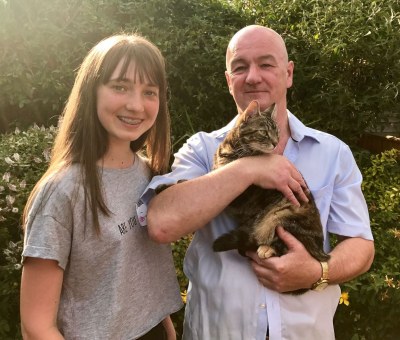 I grew up with a lovely tabby called Kitty who had one blue eye and one green eye; she lived a very long and happy life. Then came Monty - a big, brave, very independent black and white tom that I rescued from a park near Russell Square. He learned to get in a lift on his own up to our flat. We would send the lift down to him, he would stroll into it, we would then call the lift up, and he would stroll out - as if this was a normal event that was happening all over the UK! (I was certain that Monty would actually be able to operate the lift if he could reach the buttons!). As we changed home to different areas on several occasions, Monty moved with us and he always became "top cat" in his new area. Next was Blacky, an abandoned kitten we found in a toilet block close to the sea front at Redcar. She was so happy to be loved and didn't stop purring for days after we took her in. She was gorgeous and precious, and after a rough start she enjoyed a long and happy life with us.
Now we have Rosie (pictured) who is one and a half years old. She is so cute and lovable (but aren't they all!). We know she would hate being in a cattery - so she instructed us to provide our cat sitting service (what a clever cat!). That's why I provide this service – to help others cats to stay in their familiar home environment whilst their owners are away. I absolutely love my work and consider it a privilege to be entrusted with the care of so many adorable cats.
If anyone is looking to give a loving home to a needy cat, I would strongly recommend that you contact Cats Protection (Sutton and Cheam branch). After all, a house is not a "home" without a cat!
Request a free, "no-obligation" quote today!
If you wish to have absolute peace of mind when you travel away, in the knowledge that your cat is being cared for by a dedicated, caring, cat loving professional, in order to request a no obligation quote:
Please enter your full postcode in the form at the top of the "Home" page.
Tell your cats they will have a lovely time with me!
See you soon!
Andrew