Watford Cat Sitting
My name is Jan Francis, a devoted pet sitter and specialist cat sitter providing a very caring and professional pet sitting service and specialist cat sitting service (an alternative to a cattery), covering Watford and surrounding areas including: Bushey, South Oxhey, Moor Park, Batchworth Heath, Harefield, Northwood, Hatch End, Pinner, Eastcote, Ruislip, Ickenham, Uxbridge, Hillingdon, Rickmansworth, Loudwater, Maple Cross, Denham, Durden Court, Baker's Wood, Chorleywood, Heronsgate, Chenies, Croxley Green, Chandlers Cross, Sarratt, Belsize, Chipperfield, Kings Langley, Abbotts Langley, Leavesden, Hunton Bridge.
To check whether I service your location, please enter your full postcode in the form at the top of this page. If your location is covered, an inquiry form will be displayed and you will be able to contact me. I will then email you a fee quote along with details of my service.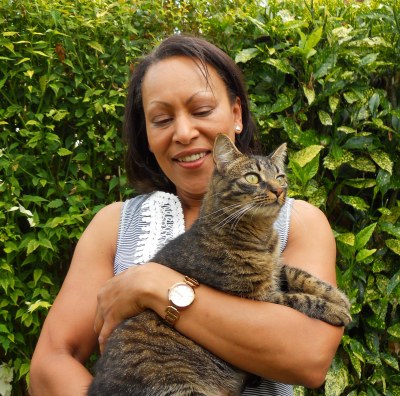 My Watford Cat Sitting Reviews
Please check out my customer reviews by clicking the following link:
Why My Cat Sitting Service Benefits Both Your Cat and You
As all cat owners know: "A house is not a home without a cat". And you live in that home with the permission of your cat! If cats could speak, they would say; "I'm territorial. I love my home environment. Please don't take me away from what I love!" Take a look at our article Why Cats Hate Catteries and you will appreciate why it makes total sense to have a trusted, professional cat sitter take care of your cat whilst it remains at home. That's me!
Life is hectic these days and we all lead overloaded lives. This is why cat owners really appreciate my amazingly responsive service! Travel is often arranged at short notice and I go out of my way to help my customers in every way I can. My customers know that all that's needed is for them to text or email before they leave - and I will then cater to their cat's every whim! I will be its permanent and dedicated servant, friend, and companion until you return! This means that whilst you are away you have total peace of mind of knowing that your cat is safe, happy and enjoying total care. (I shouldn't really say this) but your cat might not even miss you!

I will then spend time with your cat on a daily basis, and apart from sorting out the basic things such as food, water and litter trays, I will spend quality time with your cat. Depending on its age and temperament, this could be playtime, laptime or simply "chill" time. In short, I will do as much as I can to ensure that your cat is relaxed, happy and stress free. I am absolutely reliable and I will always do everything I can to help out my customers. For your security and peace of mind, I hold a basic disclosure (police check) and public liability insurance.
Whilst away, if you wish to extend your travel break, that's fine. Send me a text or email and I will be happy to make more visits.
Some of the many reasons why you should choose my cat sitting service
I understand cat behavior - always listening and watching for their cues to likes and dislikes.
I am caring and compassionate and will give your cat(s) quality time and company.
I value integrity, trustworthiness and reliability very highly and I will treat your cat(s) and your home with respect and care.
I will arrange to meet you before you depart so you can introduce me to your cats and I can show my credentials, collect keys etc).
I will put fresh food and water down in clean bowls
I will maintain clean litter trays and the surrounding area
I will take a cat to the vet should the need arise and settle bill on your behalf, if necessary
I will take post in/put bins out.
I am happy to feed goldfish and care for other low maintenance pets.
Email or text you periodically to let you know all is well
About me
I lived in London until about 11 years ago when I moved to Rickmansworth to be closer to nature.
My work for over 30 years has been in the corporate financial environment involving extensive travel around the UK, Europe and the USA to negotiate deals, provide product training and manage client relationships.
I have always loved animals and grew up with cats but as much of my working life involved travel I was reluctant to commit to having pets as I was concerned about the disruption to their lives every time I jetted off to my next assignment. Now that I am in the next phase of my life, I have finally taken the plunge. Nine years ago I became the proud and doting owner of a handsome grey horse named Talleyson and then about two years ago adopted 8 week old kittens, Darcy and Elsa.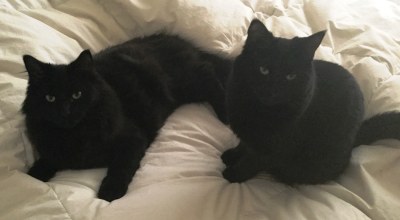 If you are looking to give a needy cat a home, why don't you contact the Three Rivers and Watford Branch of Cats Protection?
I have realized over recent years just how much I adored cats and that I was fascinated by cat talk and cat attitudes! Sharing my home with two gorgeous kittens was such fun. I laughed at their antics, felt strangely privileged when they sought out my company and was intrigued by their diversity.
I decided to look at ways to get involved with more cats and I came across the Home Loving Cats franchise business. I have now stepped back from the corporate life and I am fully launched into the cat world!
My animals give me such pleasure... I am a keen horse rider and do a lot with Talleyson, including riding out with like-minded friends in the lovely countryside and show jumping which Talley just loves. The yard where he is stabled is frequently visited by cats wild and cosseted, and all are welcome to me.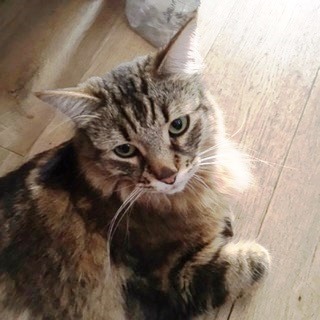 I have an affinity with cats, we get on, the photos above some of my feline family. Elsa and Darcy - my beautiful black kitties - are lively and inquisitive two-year old sisters who live with me, whilst Louis (above), the photogenic tabby/Bengal is a real charmer who deems to share his life with my sister and her family (including a bearded dragon called Demeter who I have rather warmed to!)
I love the outdoors, have reliable 4-wheel drive transport, so whatever the weather I can get out and about.
Contact Me Today!
If you want to ensure your cat(s) receives the very best care and attention whilst you are away, please get in touch with me today.
To contact me please enter your full postcode in the form at the top of this page and I will respond by return.
I look forward to meeting you and your cats!

Jan