Worcester Cat Sitting
I am Sue Perkins, a devoted pet sitter and specialist cat sitter providing a very caring and professional pet sitting service and specialist cat sitting service covering Worcester and adjacent locations.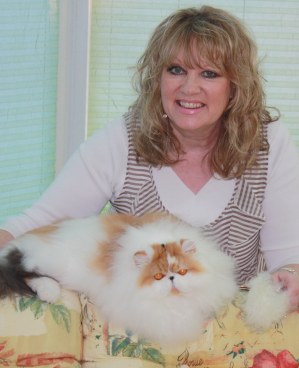 My Worcester Cat Sitter Reviews
Please check out my customer reviews by clicking the following link:
Why cats are so important to me
Hi. My name is Sue Perkins and with my husband Michael and our Persian cats, we live in the beautiful county of Worcestershire.
When did I become enchanted with our feline friends? I was five years old and my best friend lived on a farm. She always had lots of kittens and we would put them in a dolls pram and wheel them round the farmyard. It was magical and they were so cute, fluffy and adorable. My heart was captured from that first encounter and it was inevitable that I would want to share the rest of my life with our feline beauties.
Throughout my childhood we had cat at home called Timmy. He was a ginger and white fluff ball with big paws and great big flowing tail. He was affectionate and loving and through his kindly nature he helped to kindle my love of cats even more.
During my adult life I bought my first cream and white Persian kitten called Daniel and he was such an enchanting little boy. It was then my love of the Persian breed was sealed and my love of cats was to continue through the rest of my working life until the present day.
My family of Persian cats have always given me the greatest joy during my life and in 2006 I started showing, with a black and white Persian boy called Dudley. He did well at the shows and quickly became a Premier cat, winning lots of classes and certificates. At the age of three, he developed a stomach tumour and under went a major operation to save his life. He was very lucky to survive, but his show career was cut short and definitely over.
However, by this time I loved showing and so I continued to search for another show cat. Princess Paris came into my life in 2009 and she has been extremely successful on the show bench. To date she has won over 200 classes, is a real show girl and has the X Factor.
My love of showing cats has continued, but my career in retail ended when I was made redundant in 2011.
What direction would my life take know? Could I find something to do with cats?
Having carried out some research on Google, I came across the Home Loving Cats franchise run by two lovely people called Paul and Yoey. We arranged to meet up to discuss the franchise opportunity and I eventually became the first franchise owner to join the Home Loving Cats family. I have been very happy to have made that choice, I have loved every minute of running my own business and of caring for so many wonderful cats.
My feline clients vary and are both pedigree and non-pedigree, all of them very special and always a most precious member of any family.
It has been a pleasure working alongside the veterinary centres in Worcester and keeping in regular contact with them. I have received many recommends and referrals from them, particularly for those cats with special needs. Regardless of whether they are elderly, young, on medication, recovering from an operation or a cat with special dietary needs, everyone is very special to me.
A very special cat called Buster
One of my first clients was a Persian cat called Buster. He was a very special cat and at fifteen years old, had overcome many heart problems. He was on 26 tablets each day and these needed to be given three times a day. It was difficult for his owners to get away, unless a family member was able to look after him. They contacted me and after meeting up with everyone I agreed to look after Buster and to visit three times a day over Christmas.
Buster and I became great pals and he trusted me to give him his tablets. He was such a good boy and I loved him dearly. His owners were always so delighted on their return to find that he was happy and unstressed. Over coming months I looked after Buster many times, in fact over 600 visits were made, until sadly he passed away. It had been a real privilege to care for Buster; we had such wonderful times together and I will never forget him.
Why my love of my work benefits you and your cats
I feel gifted to be able to care for delightful characters like Buster and to give them all the love and attention they need whilst their owners are away.
I always provide the highest degree of care and a little bit extra for those who need special help and attention.
My service is truly exceptional and I have forty years of experience looking after cats.
Above all, I am a devoted cat owner myself and I cherish doing the most wonderful and rewarding job in the world.
I am very proud to offer the ultimate in cat care to all our feline pals and I absolutely love being a part of the Home Loving Cats family.
I hope to meet you and your cats very soon!
To contact me, please enter your full postcode in the form at the top of the "Home" page.
Best regards
Sue