Cheshire Central Cat Sitting
Hi, my name is Wendy Livesey, a devoted pet sitter and specialist cat sitter providing a very caring and professional pet sitting service and specialist cat sitting service covering the Greater Northwich area including Northwich, Winsford, Middlewich, Knutsford, Frodsham, Tarporley and Runcorn.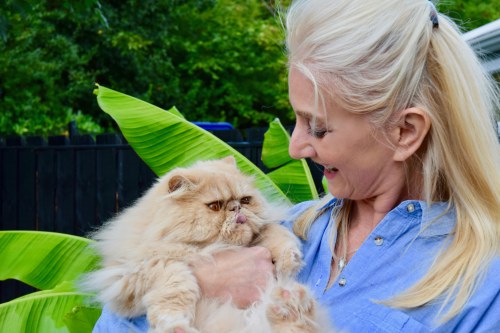 My Cat Sitting Reviews
Please check out my customer reviews by clicking THIS LINK.
Why caring for cats has always been my passion!
Whilst planning for a holiday we were looking for someone who could take care of Georgie, our sensitive and gorgeous tortoiseshell Persian. At the time, we couldn't find a service like Home Loving Cats and therefore decided to put Georgie into a cattery not far from home. On our return home we saw that Georgie was scared and traumatised. He had clearly been upset and unsettled in the cattery and he took a number of weeks to recover. We decided then that we were never going to put him in a cattery again. For an indication of why Georgie was affected in such an adverse way, please click on our article "Why Cats Hate Catteries".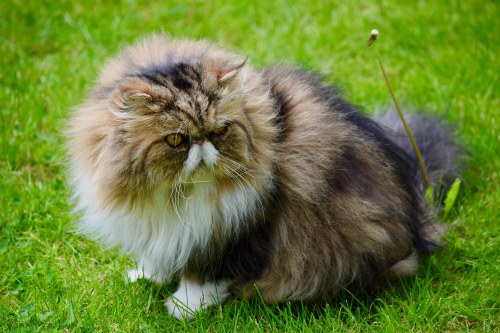 Harry, a large cream Persian, then joined our family and we subsequently came across the Home Loving Cats service in the form of a very caring lady called Sian. On meeting Sian, we immediately felt reassured that our gorgeous boys would be cared for in their own home by someone who understood and loved cats. This gave us total peace of mind whilst we were away, with regular photos and texts letting us know that all was well and how happy the cats were.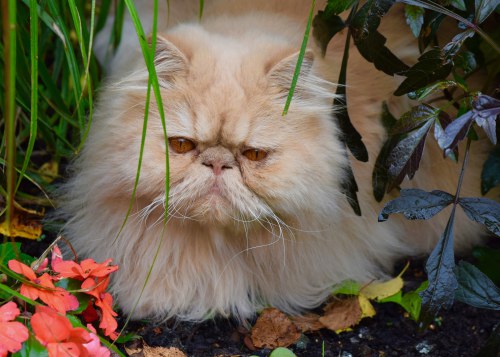 When I found out that our cat sitter Sian was retiring because of family ill-health, I saw that as an opportunity to follow my dream of running my own business and I eventually took on the Home Loving Cats franchise in my home area. I have worked in the financial sector for the past 13 years and have managed people most of my working life, but managing my own business in the amazing cat care sector is a fantastic opportunity that I absolutely cherish.
A little more about me
My husband Ashley and I are within easy travelling distance of our customers in Northwich, Winsford, Middlewich, Knutsford, Frodsham, Tarporley, Runcorn and surrounding locations. I am originally from Cheadle in Cheshire and Ashley was born in Dewsbury, Yorkshire. Ashley is equally as passionate about cats as I am, and although he has his own career, I am very fortunate that he is very willing to provide cover during my very busy periods on a contingency basis as and when necessary. Like myself, he is of impeccable character and integrity, and your home and possessions are safe in our care. (We both possess a Basic Disclosure Police Check and carry public liability insurance).
From an early childhood my family was always blessed with lots of animals. My first memories were of Misper, a beautiful long-haired tabby who had bags of character. When Misper gave birth, I remember helping mum deliver some really beautiful kittens. I knew then that I had a passion for cats!
Our wonderful cats
Georgie had come into our lives aged 6 years through a friend who had three cats. He was very shy and reserved and was the odd one out of the three, so we took him in. Georgie lived under our sofa for the first three months until he built enough confidence to explore our home. He was such a special little boy, and he soon discovered the outside environment, spending most of his day strolling around the garden. He took on a new lease of life when 4 years ago we introduced him to Harry, a cream long-haired boy, and they soon became best buddies. Georgie did suffer from asthma and very sadly we had to say goodbye to him in April this year. He was a very special boy and this was devastating for us.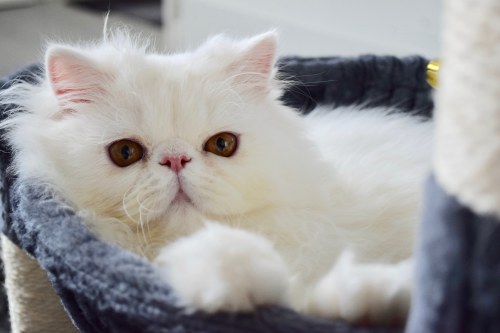 We recently decided to find a friend for Harry as he was really missing Georgie. So Mylo arrived (wow!), a white, 12 week old Persian, confident, extremely "naughty" kitten, full of mischief and playfulness, and the most lovable cat we have ever experienced. He is absolutely adorable, and whilst Harry gets very annoyed with him at times, Harry does protect and look out for him. How lovely!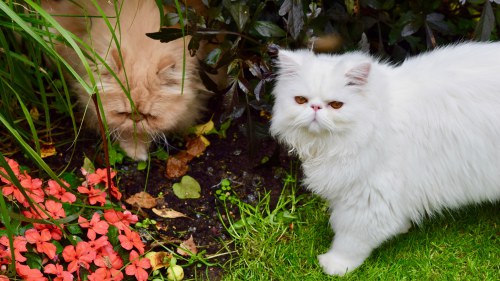 A fantastic local vet hospital
We are very fortunate to be located not too far away from the Willows Veterinary Hospital which offers 24-hour emergency care along with state-of-the-art facilities.
Your peace of mind guaranteed!
No cat sitting service can ever exactly replicate the care that conscientious owners provide for their own cats. However, I want you to have the confidence that whilst you are away from home, I will do everything I possibly can to ensure that your loved ones will enjoy care of the highest possible standard. Your cats might even enjoy my service that much that they will not even notice you are missing!
The key features of my service are:
I am absolutely passionate about cats and I provide a caring, sensitive and very personal service;
(As mentioned earlier), both myself and my husband Ashley are of impeccable character and integrity, and your home and possessions are safe in our care. (We both possess a Basic Disclosure Police Check and carry public liability insurance);
An initial, free introductory meeting to get to know you and your cats, and to fully understand their needs and your requirements whilst you are away. This includes such things as food arrangements, litter trays, favourite toys, whether you allow them outside access, if they like to be groomed and stroked, whether their eyes need wiping, any medication requirements, information in relation to your vets, along with security information and key arrangements;
My service is extremely reliable. I will always "go the extra mile" to assist you in every way I can, and I will never let you down;
I react at very short notice to help my existing customers (a text the night before is usually all I need);
I am available over most of the main holiday periods and over most weekends;
I will visit as often as you wish. 99% of customers tend to require one visit per day. However, if you feel that your circumstances require more than one visit per day, then this can be arranged;
I will water houseplants, remove mail and newspapers stuck in your letter box, and adjust lighting and curtains to give the impression that your house is occupied. I am also happy to put out and bring back refuse bins if you let me know what day collections are made;
And most importantly, cats receive the very best care, attention, cuddles and re-assurance. This gives you peace of mind so that you can relax whilst you are away.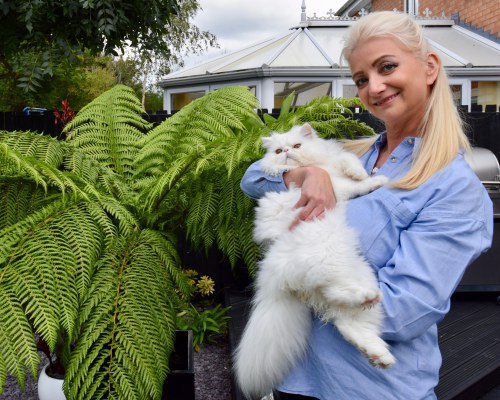 Contact me today!
With my exemplary "5 star" service, I build very long-term relationships with my customers (both human and feline). Your satisfaction is guaranteed and I know that after using my service you will hopefully want to recommend Home Loving Cats us to all your friends, family and neighbours - which is how many cat owners hear about our service.
I look forward to meeting you and your cats.
To contact me, please email me directly if you already have my email address. Otherwise, please enter your postcode in the form at the top of the "Home" page.
See you soon!
Wendy