Banbury Cat Sitting
Hi, my name is Fiona Hunt and I'm a pet sitter and specialist cat sitter providing a very caring and professional pet sitting service and specialist cat sitting service covering Banbury and surrounding areas including Brackley, Byfield, Deddington, Chipping Norton, Bloxham, Middleton Cheney, Kineton, Bodecote, Adderbury, Twyford, Kings Sutton, Chacombe, Greatworth, Mollington, Warmington, Southam, Shotteswell, Cropredy, Wroxton and Drayton.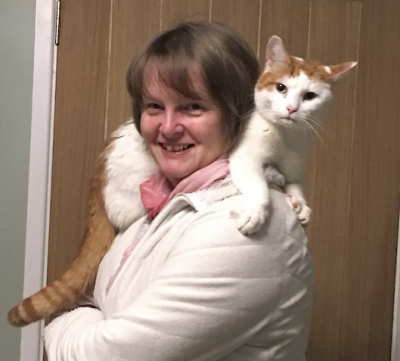 My Cat Sitting Reviews
Please check out my customer reviews by clicking THIS LINK.
About me
I grew up in a small market town on the edge of the Cotswolds, and our home was situated on its outskirts, surrounded by fields. At the bottom of the garden there was a hunting kennels, which I used to visit often. My love of the outside and animals began during my childhood, and I was very fortunate to have a best friend at primary school who lived on a farm, and I spent many happy days there. This was where I first saw a cat give birth and I experienced the joy of seeing a mother cat with her new kittens. Needless to say, we had many cats and a dog at our home!
As an adult bringing up my children, we had a variety of pets including rabbits, guinea pigs, and of course many cats! At present I have four beautiful cats. My eldest (below) is 14 and goes by the name of Tom aka Tommy, tom bomb, with beautiful big yellow eyes and sleek black fur. When it's cold, he keeps going between the front and back door when he wants to go out, always looking for the door into summer.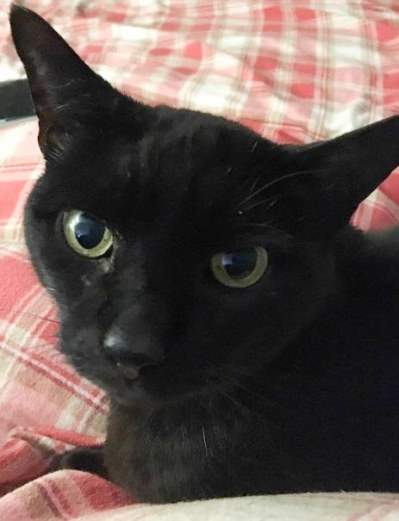 Theo (below) is 7 years old and is a grumpy boy but a loveable rogue who believes he is "royalty" due to his being half Siamese!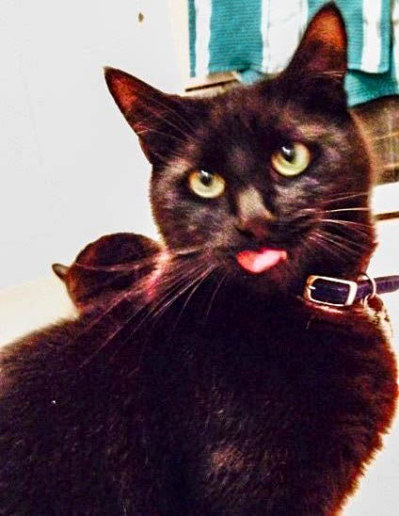 Last but by no means least, are brothers Cookie and Polo, 5 years old, and most definitely the babies of the family. They love nothing more than to be curled up with us, usually on our heads, stealing the pillows. Many tummy rubs, cuddles and kisses are required by them and easily given by Carey and myself!

When I'm not caring for cats!
When I get some spare time, I enjoy baking cakes, the fancier the better, as well as walking and yoga which is a great way for me to relax. I also enjoy drawing and have recently enrolled on a university drawing course to improve my ability. Hopefully one day I will be able to draw my beautiful cats (and perhaps yours!).
Want to offer a home to a needy cat?
If you are able to offer a loving "forever" home to a cat (or cats) in need, why don't you contact the wonderful people at Cats Protection Cherwell?
The benefits of my cat sitting service
Cats are territorial. They love their home environment. Check out our article Why Cats Hate Catteries and you will understand why it makes absolute sense to have a caring and conscientious cat sitter look after your cat whilst it remains at home. That's where my service is brilliant!
Life generally is very chaotic these days and we all lead extremely busy lives. This is why cat owners (and their cats) really love my marvellous service! I go out of my way to help my customers in every way I can. So whilst you are away, you have total peace of mind of knowing that your cat is safe, happy and enjoying being pampered.
In addition to sorting out the basics of food, water and litter trays, I spend quality time with your cat. Depending on age and the inclination of your cat, this might be playtime, laptime or simply relaxing together. The bottom line is that I do as much as I can to ensure that your cat is relaxed, happy and without stress. I am absolutely reliable and for your security and peace of mind, I hold a basic disclosure (police check) and public liability insurance.
Get in touch today
For peace of mind and happy kitty cats whilst you are away, please get in touch with me and I will email you a quote and more information.
To contact me, and to check whether I cover your location, please enter your full postcode in the form at the top of the "Home" page.
See you soon!
Fiona