Birmingham South Cat Sitting
My name is Aurelie Van Vooren, but since that's quite a lot to remember, you're very welcome to call me Lilly!

I am a devoted pet sitter/cat sitter providing a very caring, professional pet sitting/cat sitting service in the South Birmingham area including City Centre Birmingham, Central Birmingham, Ladywood, Sparkbrook, Small Heath, Tyseley, Yardley, Sheldon, Harborne, Chad Valley, Edgbaston, Bournbrook, Balsall Heath, Sparkhill, Acocks Green, Selly Park, Selly Oak, Moseley and King's Heath, Bournville, Stirchley, Hall Green, King's Norton, King's Heath, Brandwood, Hollywood, Maypole, Billesley, Yardley Wood, Whitlocks End, Dickens Heath, Shirley, Olton, Major's Green, Solihull, Elmdon Heath, Catherine-de-barnes, Sparkhill, Greet, Springfield and nearby locations.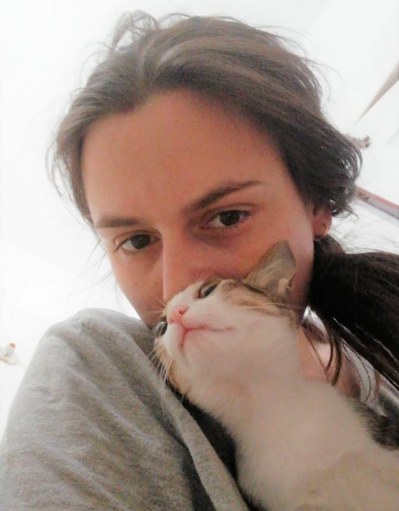 Birmingham South Cat Sitter Reviews
Please check out previous Home Loving Cats customer reviews by clicking the following link:

Birmingham South Cat Sitter Reviews
Why my service will benefit you, and more importantly, your cats
I'm a crazy cat lady who loves cats!
Cats do not really enjoy being forcibly taken away to a cattery when their owners travel away. So with my service, your cats can stay in the familiar comfort of their home environment! (Check out our article Why Cats Hate Catteries).
Crucially, I give cats in my care quality time, attention and fuss (rather than just a very brief "pop in" feeding service which sadly many so-called pet sitters provide these days). In relation to this, please check out the answer to the very first question in our FAQ section on our website at: https://www.homelovingcats.com/questions.
I have cared for many cats over recent years, so my cat care experience is extensive.
My knowledge of first aid for cats is second to none, so in the very unlikely event that your cat requires first aid, then I can certainly assist in that respect.
Should your cat require medication, I am very experienced in giving this in the most compassionate and caring way - so as not to cause distress.
You can go on your travels with complete peace of mind, in the knowledge that your cat is in very caring hands.
For your further peace of mind in relation to security of your home and possessions, I have a flawless basic disclosure (police check) and also public liability insurance.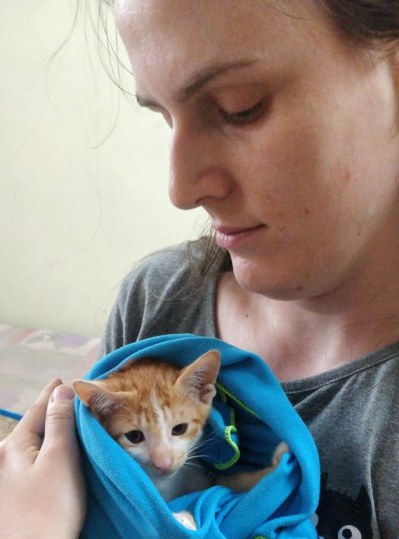 About me and my cat world
I'm a crazy Belgian cat lady born in Germany, and now living with my husband Sandeep in Birmingham.
I consider myself to be very blessed and fortunate to be leading the life I do.
Let me explain…
Several years ago, whilst working in the administration department of an international bank in Brussels, I encountered a computer problem. An IT guy came to assist me - and the rest is history!
In fairy tale terms, I was the "damsel in distress" and my "knight on a white horse" was Sandeep. We are now married and live permanently in the UK.
I have always grown up with cats. When I was around 10 years old, we took in a cat which gave birth to 7 kittens. Four were successfully adopted with other families and we kept three. I believe each of them chose their guardian and Melusine chose me and became my baby.
She was with me for 18 years and went to Rainbow Bridge in 2017. Melusine knew she was very loved, and I know for sure that she loved me.
If you are looking to give a home to a cat (or two) in need, why don't you check out the following links to Cats Protection Birmingham Adoption Centre and Team Cat Rescue who both do an amazing job rehabilitating cats.
Since we have been together, Sandeep (previously mainly a dog lover), has become as dedicated to cats as myself!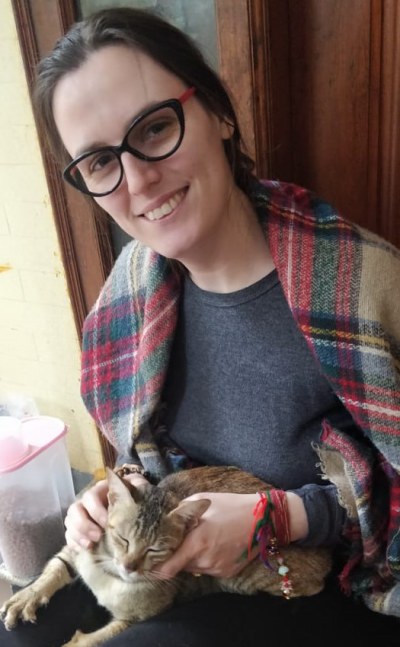 A truly life changing experience...
Several years back, we decided to spend a couple of years in Sandeep's native India in the Bangalore region. And there, our life became immersed in cats!
We took in Ratty who was injured, followed by Purplely, Yellowa and Greeny (named after their collar colour), since their lives were at risk near a busy road.
In seeking help to get them adopted into their "forever" homes, I joined a local cat welfare organisation, joined their foster network, and in the process gained extensive experience caring for cats and kittens who were in great need.
I will always look back on my time in Bangalore as "life changing". I decided that I no longer wanted to sit behind a desk five days a week and instead wanted a caring role in the animal world and specifically the "cat" world.
My reason for doing what I do
And that's why (when my predecessor Lorraine decided to leave) I turned my passion for cats into a very needed service by becoming part of Home Loving Cats. Hence cat owners and their cats continue to receive an oustanding cat sitting service - and not have to suffer unnecessary stress when travel is undertaken. You'll soon hopefully discover that you and your cats will love my service!
Contact Me Today!
If you want your cat or cats to have a really lovely and stressless time whilst you are away, please get in touch today!
To contact me, please enter your full postcode in the form at the top of the "Home" page.
See you soon!
Lilly