The Ultimate Cat Flaps Are Now Available!
Catflaps are very convenient in that they allow your cat (or cats) to enter and benefit from the warmth and shelter of your home, and at the same time, allow them to exit for fresh air, exercise and toileting. And you don't have to be present to let them in and out!
But they have one big disadvantage – they allow other cats in as well. A "foreign" cat that has entered your house may take the food of, and stress out the resident cats, and there is always the possibility that it may also urinate inside the house – not a pleasant occurrence!
To try and solve this problem, manufacturers have come up with a range of "entry controlled" catflaps which require the cats to wear a collar incorporating a magnet or an infra red device. The downside of these catflaps is simply the fact that the resident cats have to wear a collar holding the triggering device. Many cat owners (including ourselves) prefer their cats not to wear collars as collars can be dangerous if caught on tree branches and other items. In addition, if the collar comes off the cat or if the triggering device comes off the collar, then the cat cannot gain entry to the house. Not desirable if you are away all day and the weather is freezing cold!
But now, the cat flaps that all cat owners have been waiting for have finally arrived! And the clever thing is that THEY ARE TRIGGERED BY THE MICROCHIP INSIDE YOUR CAT – so it does not need to wear a collar!

The brand that we personally recommend is Sureflap.

Check out the SureFlap website.

There are two products:
Microchip pet door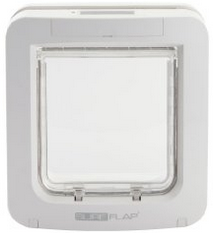 Designed for large cats or small dogs.

NEW Curfew Mode: to program the door to lock and unlock at specified times (especially useful if you prefer your cat to be out during the day but inside at night).

NEW Double Lock Mechanism for increased security.

Battery powered: 12 months typical battery life.

Note that there is no protruding canopy on the exterior side of the catflap (as with the PetPorte) since the microchip scanner is built into the body of the catflap.

Microchip cat flap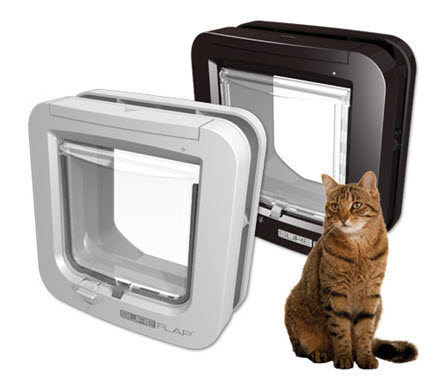 Designed for small to medium size cats.

Does not have a Curfew Mode; but the catflap can be manually opened or closed (if you are there).

Not suitable for large, overweight, or tubby cats – as they will not fit through!

Battery powered: 12 months typical battery life.

Conventional catflaps cost £30-£50. Considering the technology that they contain, and the convenience they offer, the SureFlap catflaps are fantastic value.
UPDATE AS OF MAY 2019!!!
In our opinion, the best basic model is the Sureflap "microchip pet door" (check out Sureflap and Amazon). Even though they say this is for "large" cats, regardless of the size of your cats, this is the best "basic" cat flap to go for because it is programmable. If you prefer to have the benefit of an app on your mobile phone which tells you when your cat is leaving the house and returning to the house via its catflap, then you will need to purchase either the Cat Flap Connect (check out Sureflap and Amazon) or the Pet Door Connect (check out Sureflap and Amazon)