Ipswich Cat Sitting
Hello! We are Neil and Julie Langley, devoted pet sitters and specialist cat sitters providing a very caring and professional pet sitting service and specialist cat sitting service covering Ipswich and the surrounding areas including Woodbridge and Felixstowe. This means that every cat owner in the Ipswich area has the option of having their cats cared for in their familiar home environment instead of them being taken off to a stressful cattery environment.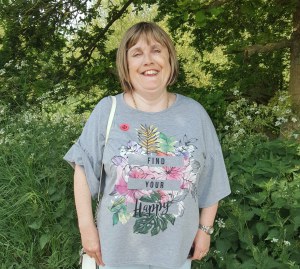 Our Ipswich Cat Sitter Reviews

Please check out our customer reviews by clicking the following link:

Ipswich Cat Sitter Reviews
Our beautiful and cherished cat family
We have three cats ourselves (who allow us to live in their house) - thus enabling us to cater to their every whim. If you are a cat lover you will know what we mean! Since meeting thirty years ago we have always had at least one cat at home. In fact, we had eleven furry friends for a short time when Saffi had eight kittens!
Saffi is a five-year old Bengal cross. She is highly intelligent and lets you know in no uncertain terms what she wants!
We also have Pandora, a blue-eyed Snow Bengal otherwise known as "Daddies Little Princess''. She loves nothing more than lying on Neil's lap during the evening and has pushed another cat (or his laptop) out of the way to get what she wants. She is small but rules the roost.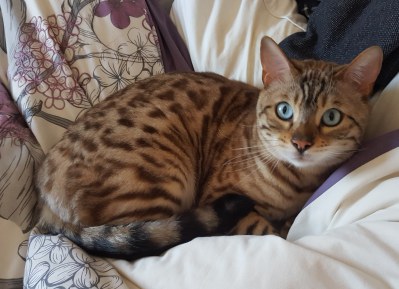 Links is a three-year old male Bengal who is a gentle giant and so laid back he is horizontal which is just as well living with two female cats. Pandora and Links are devoted to each other and even sleep in a pet bed together.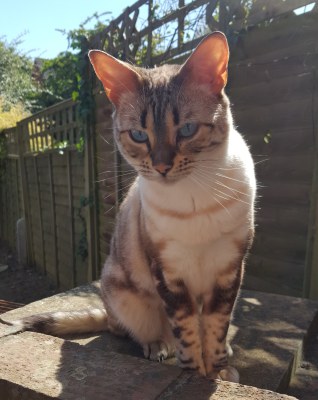 Links had a traumatic start in life and had been left in a run with three chihuahuas. He was understandably very confused and thought he was one of them. He yapped like a small dog which was quite upsetting to watch. Gradually, after spending time with Pandora and Saffi and with lots of TLC from ourselves, Links stopped doing this and behaved more normally. However, it did make us reflect on the fact that a cat's home environment is everything to a cat and that forcibly removing a cat from its home environment and taking it off to a cattery is not only not in a cat's best interests, it is highly detrimental to its health and well-being. Why don't you check out our article on the subject by clicking "Why Cats Hate Catteries". Also, if you are thinking of giving a "forever" home to a cat in need, why don't you contact those wonderful people at Cats Protection Ipswich?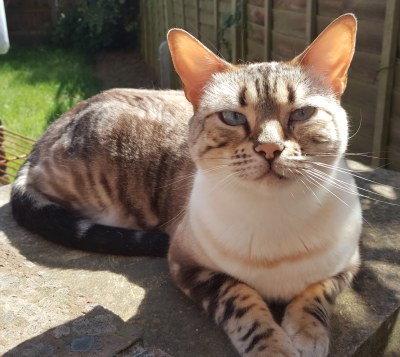 We simply love spending time with cats!
It is relatively easy to find someone to walk and feed your dog but it's difficult to find a quality service for your pampered feline prince or princess. We came across the above mentioned article ourselves and along with our own research, it led us to discover Home Loving Cats and we eventually became part of Home Loving Cats. This means that fortunately for the cats and cat owners in the greater Ipswich area, a totally caring and very dedicated cat sitting service is now available in the form of our Home Loving Cats service.
With a business that you feel passionate about, it is your enthusiasm and love for what you do on a day-to-day basis that drives you on. And most importantly for cat owners in the Ipswich area, this means that we simply love spending time with cats!
Confidence in our service
We want you to have the confidence that your beloved cat will receive the same care whilst you are away from home as if you were still there. Features of our service include:
We are happy to periodically send you photos and messages in relation to your cat.
It is an extremely discreet service and we arrive in a "normal" private vehicle (not sign written). We are amazed at how many pet sitters arrive in a vehicle which advertises the fact that your house is empty and you are away from home!
We are truly "cat" people and will take the time to get to know your cat as an individual - so it will soon recognise us as "friends".
During our initial and free introductory meeting prior to your first booking, you can introduce us to your cat and we will run over the arrangements for when you are away. This includes:
Food arrangements.

Litter tray arrangements.
Whether your cat likes to be brushed or not.
Favourite toys and games.
Favourite places to sleep or hide.

Whether an indoor cat or outdoor cat and whether there is there a catflap.
Any medication required?
Any security alarm arrangements.
Total peace of mind assured
Your peace of mind and the health and happiness of your cat is everything to us, and anything that is important to you matters to us.
The key features of our service are:
We are absolutely passionate about cats and we provide a caring, sensitive and very personal service;
We specialise in cats;
Our service is extremely reliable. We will always "go the extra mile" to assist you in every way we can, and we will never let you down;
We can react at very short notice to help existing customers (a text the night before is usually all we need);
We are available over most of the main holiday periods and over most weekends;
We will water houseplants, remove mail and newspapers stuck in your letter box, and adjust lighting and curtains to give the impression that your house is occupied. We are also happy to put out and bring back refuse bins if you let us know what day collections are made;
We are of impeccable character and integrity and your home and possessions are safe in our care. (We possess a Basic Disclosure Police Check and carry public liability insurance);
And most importantly, cats receive the very best care, attention, cuddles and re-assurance. This gives you peace of mind so that you can relax whilst you are away.
Contact us today!
We look to establish trusting and a very long term relationships with our customers. Our service is a five star service with "catisfaction" guaranteed and we will know that after trying our service you will probably want to recommend us to all your friends, family and contacts - which is how many cat owners hear about our service.
Please get in touch today!
We look forward to meeting you and your cats soon.
To contact us, please enter your postcode in the form at the top of the "Home" page.
Best regards
Neil and Julie