Leeds Cat Sitting
Hi. I am Jonathan Rockliff, a devoted pet sitter and specialist Leeds cat sitter providing a very caring and professional pet sitting service and specialist cat sitting service covering Leeds. Your cat will really look forward to my service!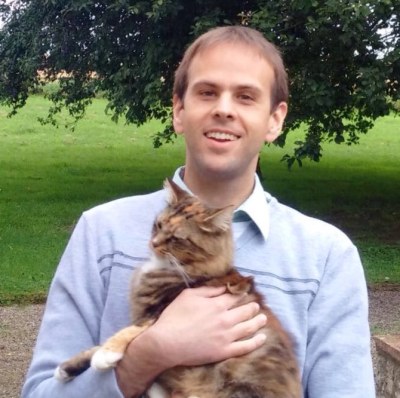 My Leeds Cat Sitter Reviews
Please check out my customer reviews by clicking the following link:

Leeds Cat Sitter Reviews
Why my cat sitting service benefits you and your cats
Whilst there are lots of good quality catteries that offer a high quality service, cats are territorial and do not like being away from home, let alone being taken away from their favourite chair and being forced into their cat carrier. Sometimes as a result of the stress, cats can stop eating and drinking and become unhappy, and this is the last thing you will want on your mind whilst you're trying to enjoy your well-earned holiday. For more details take a look at our article "Why Cats Hate Catteries".
Prior to starting my Home Loving Cat business, I used to occasionally cat sit for friends and family. These experiences whet my appetite for caring for cats on a regular and professional basis. It's a great feeling to see cats come running to greet me every time I make a visit, and I feel very blessed that becoming a Home Loving Cats cat sitter has given me the opportunity to make cats' lives better and to save you from having to take your cat to a cattery.
My previous work experience has taught me that when people seek a particular service, they are looking for somebody who has good attention to detail, is knowledgeable in their field, is a reliable communicator, and who is willing to be on hand for advice at all times. That's me!
Cats are one of our greatest friends; they have certainly been mine for the last 25 years! They aren't just companions either; they become valued family members. I continue to be fascinated by their unique personalities and traits, what they enjoy the most, and the tricks they often have up their sleeves.
Would you like your cat to be cared for by a like-minded cat lover who, in addition to feeding, fussing and playing with your cat, will build such a good rapport that not only will it not want the fun to stop, it will really look forward to my next visit?

Then look no further!
About Me
I was born in York and brought up in Tadcaster, home to the famous Samuel Smiths, John Smiths and Bass breweries and pubs. (To this day, deliveries are by horse and dray straight from the brewery). The grade II listed historic (and recently refurbished) Tadcaster bridge featured on the route of the 2017 Tour de Yorkshire cycling race.
For the last five years I have lived in Headingley, Leeds, an area jam-packed with amenities, privately owned shops, businesses, cafés and just a few minutes' walk from Meanwood Park (perfect for a morning walk). Neighbouring Chapel Allerton, Hyde Park, Roundhay Park, Moortown, Meanwood, Kirkstall and Leeds City Centre are all easily accessible from Headingley, along with golden Acre Park and its famous Meanwood Valley Trail.
When away from cats, walking is one of my biggest interests, with the Hebden Bridge/Hardcastle Craggs walk being one of my favourites, particularly with the Pack Horse Inn and its delicious "Beefy Broth" being the halfway house! I enjoy brief city breaks away, particularly to Ireland, and also enjoy watching classic films, including "The Italian Job" from 1969 starring Michael Caine and Noel Coward.
Looking to offer a home to a cat (or cats) in need?
Rather than buy a kitten or cat, have you considered adopting a cat? - or perhaps a pair of cats? If so, please check out the Cats Protection Homing Centre at Gildersome, Morley. Their vision is: "A world where every cat is treated with kindness and an understanding of its needs". What a great sentiment!
My beautiful cat
I currently have one cat called Trinny (pictured below) who is a young tortoiseshell, black and tanned, long-haired girl. She is barmy, very loveable, and has a purr like a car engine. Trinny is very agile and some mornings will come in through the bedroom window, as she can jump up on to the extension and on to the bedroom window from there! Her favourite hobbies are "high-fiving", sitting on people's laps, head-butting and fine dining. Her coat is very smooth, and requires daily brushing in order to keep it shiny and in good condition. Trinny recommends my service to all her feline friends!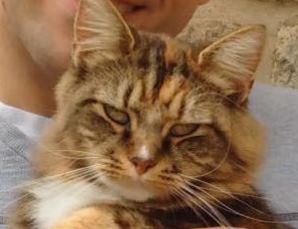 Contact me today!
I look forward to meeting you and your cats.
Please get in touch today.
See you soon!
To contact me for a "no-obligation" quote, please enter your full postcode in the form at the top of the "Home" page.
Kind regards.
Jonathan