North West Leicestershire Cat Sitting
My name is Ellen Higgins and my mother is Anne. Together we are devoted pet sitters and specialist cat sitters providing a very caring and professional pet sitting service and specialist cat sitting service covering North West Leicestershire including Coalville, Whitwick, Thringstone, Ellistown, Ibstock, Castle Donington, Kegworth, Loughborough and surrounding areas.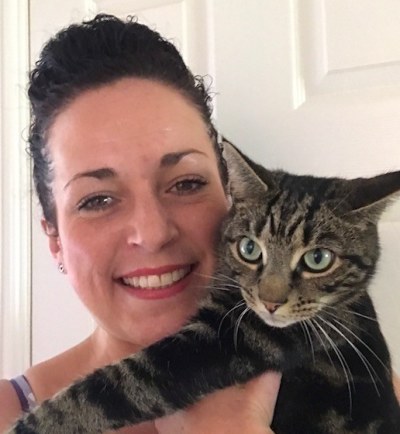 My North West Leicestershire Cat Sitting Reviews
Our reviews can be viewed by clicking the following link:
North West Leicestershire Cat Sitting Reviews
Why our service is great for both you and your cats
Quite simply, we are exceptionally passionate about cats!
In addition, it's a fact that the great majority of cats really hate to be taken to a cattery. Check out our article Why Cats Hate Catteries.
In addition to the fact that cats prefer to stay at home, people lead busy lives these days - so why don't you take the strain away from your travel plans and leave everything "catwise" to us?
With our service, there is:
No stress to cat
No stress to you
No journey to cattery
No journey from cattery
Happy you!
Happy travel!
Happy cat!
Once you and your cats have tried our service, you will use Home Loving Cats again and again!
About us (and why we love cats!)
We got our first cat, Tabitha, when I was 14 years old. She brought so much joy into our lives. To this day I still remember the excitement and anticipation that I felt on the day of her arrival when I was waiting to meet her. Tabitha lived a very long and happy life during which I also adopted a street cat called Bailey and another stray cat that we called Mino.
When I left home my brother bought me a kitten called Milo who is now a 7 year old "dog sized" ginger tom cat and "king of the castle"! (In addition, Milo's brother Mackenzie went to my mum). I loved Milo from the moment I met him. I even used to go home from work during my lunch time just so that I could spend time with him and give him cuddles. When I was pregnant with my son, Milo would crawl up onto my bump and settle down for a long sleep. Milo is now 7 years old.
Once my son was born, I made the decision to get Milo a friend. He is a black tom that we named Marley. Marley is hilarious (and I mean this in the nicest possible way) he is not the sharpest "tool in the box". He is now 6 years old, he is like a giant teddy bear and I love him to pieces…
You would think that I would have stopped at two, but no! I also have Tabitha (the "second") who is now 3 years old. She ended up having 4 kittens, Joey, Theo, Snerf and Poppy. Joey still lives with me and he is the most responsive, loving boy. Theo, along with his adopted sister Bella, lives with my mum Anne. Snerf and Poppy were adopted by two of my best friends. All are living fantastic lives and are real characters.
My mum's cat Bella is not just adorable, she is one of the funniest cats ever, and is extremely intelligent. She can open doors with ease, knock on the front door for someone to let her in, and she helps herself to anything that she fancies. What a cat!
And then there was Tommy…. I had been looking after Tommy, a stray cat, for months. He used to come into my home of an evening and I made sure that he had lots of love and was always fed. When I was moving house, my dad said that Tommy could live with him – and Tommy remains there to this day.
If you are able to offer a loving home to a needy cat, then why don't you contact Redgate Farm Animal Sanctuary?
For years, my mum Anne and I have dreamed of running a business caring for cats. So when we came across the Home Loving Cats cat sitting opportunity, we knew that this was exactly what we had been looking for.
Now you and your cats can benefit from our fantastic service and our wonderful care!
We look forward to meeting you and your cats very soon.
Please get in touch today!
To contact us for a "no-obligation" quote, please enter your full postcode in the form at the top of the "Home" page.
Best regards
Ellen & Anne