London Cat Sitting Area 2
My name is Annie Indreiten, a London cat sitter. My London cat sitting service covers Greater London including Richmond, Kew, East Sheen, Chiswick, Hammersmith, Fulham, Putney, Barnes, Mortlake, Chelsea, West Kensington, South Kensington, Roehampton, Acton and adjacent areas. I provide a very caring and professional service of outstanding quality.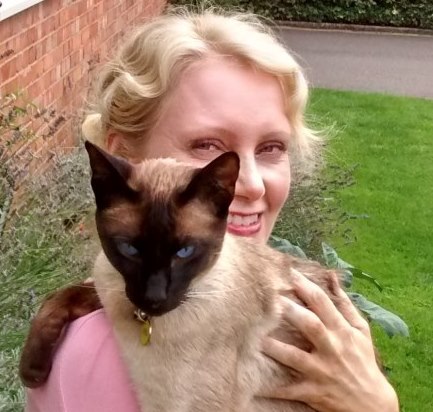 My London Cat Sitter Reviews
Please check out my customer reviews by clicking the following link:
Why My Cat Sitting Service in London Benefits You and Your Cats
I absolutely love being a cat sitter as I get to meet and care for cats on a daily basis. Nothing is better than being greeted by little furry friends every morning! I also enjoy being my own boss and the satisfaction of the results I get from working very hard. The cats I care for are all very well taken care of.
I am very reliable and punctual. If a customer requests a certain time for me to see their cat I do my best to accommodate this. Many cats go outdoors and there have been times when they have not come back in yet when I see them. If this is the case I always make extra visits at no cost to make sure that everything is fine. The well-being of the cats in my care is paramount. I don't feel at peace unless I know everything is OK.
Part of my job is to ensure that the cats in my care are well. If I detect a health problem with a cat, I always consult a vet immediately, and if necessary take the cat to the vets. My customers know that this is how I work and are always very thankful to me for helping out in such a stressful situation.
I make good friends with the cats I look after. I give them lots of cuddles and attention. I brush them if they like being groomed. I am fastidious with hygiene. I always make sure that the food and water bowls are washed and dried before I give them fresh food and water. Litter trays are always changed and cleaned as often as necessary.
Another important aspect of my service is to keep my customers informed of how their cats are doing while they are away. I send them daily updates and this makes my customers feel relaxed and they can enjoy their time away knowing that everything is fine. It gives them peace of mind which is very important.
I strongly believe the service I offer is a better alternative to a cattery. Please check out our article Why Cats Hate Catteries. The feedback I receive confirms that cats in my care are happy and relaxed when their owners return. It is very clear they prefer staying in their own familiar surroundings and with the love and attention they get from me, why wouldn't they?

I always go above and beyond the call of duty to offer the best care for cats. It's the only way I can be. On one occasion, I looked after I cat while there were painters inside the house. Even though the painters had strict instructions not to let the cat out, they accidentally did. The cat's owners had just moved to this house and the cat hadn't yet been let outside. Obviously, the cat didn't know her new surroundings at all. I had to inform the owners who understandably were extremely worried and concerned, but I returned several times per day, until finally I found her in one of the neighbouring bushes and brought her back inside her home. I don't know who was more relieved - the cat, the owner, or myself!
In my work, I encounter cats that are really scared of strangers (usually rescue cats with a sad background). It is, of course, unrealistic to expect them to be trusting of me initially, but I have on numerous occasions managed to make friends with such cats and established strong bonds of trust. A great deal of patience is required but it's so gratifying and personally fulfilling to see them trust me in the end.
About Me
I live in a riverside development in Kew, West London. It's a really lovely and quiet area with friendly people. I live just a short walk from the river Thames. There are many rowing clubs nearby and you always see the rowers practising on the river. Walking or running along the river paths is a great way to enjoy some fresh air. There are also many riverside pubs where you can stop for a lovely lunch or for drinks. Shops and restaurants are just a short drive away in either direction of the river. My local vet is Kitten to Cat and over the last couple of years I have got to know them really well. They are a "cat only" vets and they have really taken really good care of my cats and other cats I have taken there. They are the first place I go to for advice on cats or when any cats require treatment.

I live with my 2 ½ year-old daughter, Mia, and three Siamese cats. I have two kittens, Mimi and Marvin who are brother and sister. My oldest cat, Nelson, is nearly 3 years-old. Apart from caring for cats, I spend most of my time taking care of my daughter. When I have some spare time for myself, I like to exercise. I mostly run along the river or I go to the gym when it's raining. I also love music and the arts and I try to take advantage of what London has to offer in that respect.
I am originally from the west coast of Norway. I grew up in a small idyllic town by the sea surrounded by mountains. After I finished school I worked in southern France for a year. This was followed by another year studying Spanish in Spain. I came to London to study politics and development studies at the University of London. After my graduation I decided to stay put in London and spent several years working as a video editor. In the end I decided that commuting was not for me and that's when I found out about Home Loving Cats. I applied to become part of their pet franchise and I have since built an extremely successful and thriving cat sitting business.
I have always loved animals and especially cats since I was young. Unfortunately I couldn't have them at home when I was growing up but I do remember always stopping to say "hello" to various cats I saw in the street or enjoying stroking other people's cats. When I came to London I made up for this and I have had 9 cats in the last 15 years!
I love the presence of cats in my home. Apart from being very cute and adorable, it feels like they have become its soul. I love the companionship of cats as well as their warmth, independence and their different personalities. I also enjoy the mysteries, myths and stories that surround cats.
I am a trustworthy, reliable and a caring person who absolutely adores cats. I really enjoy taking the best care of the cats I am entrusted to look after, and if you want the very best for your cat, please try my service. I promise that you and your cats will be delighted!
I hope to meet you and your cats soon!
To contact me, please enter your full postcode in the form at the top of the "Home" page.
Best regards
Annie
Home Loving Cats, Flat 4, Terrano House, 40 Melliss Avenue, RICHMOND TW9 4BZ