London Cat Sitting Area 4
My name is Tonje (pronounced "Ton-ye"), a devoted pet sitter and specialist cat sitter providing a very caring and professional pet sitting service and specialist cat sitting service covering Greater London adjacent to and north of the Thames from Brentford in the west to Putney Bridge in the east, and includes Chiswick, Hammersmith, West Kensington, Brentford and parts of SW5, SW6, TW8, W3, W4, W6, W12 and W14. I am cat mad!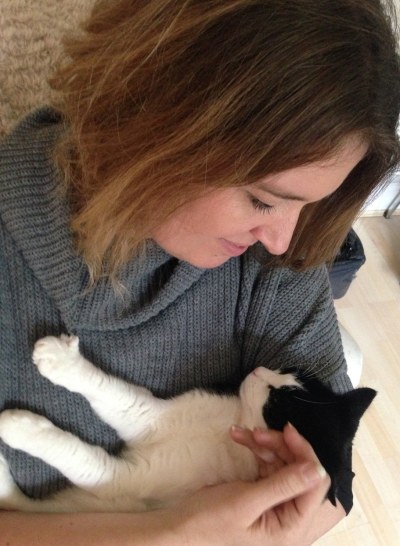 My Customer Reviews

Please check out my customer reviews by clicking the following link:
Why my cat sitting service is great for you and your cats!
I absolutely love cats ! – and I feel incredibly lucky to run my own cat sitting business. It is so rewarding to be able to look after cats on a daily basis and help my customers feel relaxed when they travel away – happy in the knowledge that someone is giving their beloved cat or cats so much love and attention!
After helping my friend and now fellow Home Loving Cats franchise owner Annie over the past two years, I have recently started my own cat sitting service and it is so exciting! I thoroughly enjoy meeting cat owners, making sure I understand all the little 'special' things that they do to care for their cats so that I can keep that up whilst they are away. I always make sure we have time for a proper chat during our introductory meeting, so that I can learn as much as possible about the cat's personality, habits, likes and dislikes.
During my visits, I will make sure your cat is fed, water is replaced, and litter trays are cleaned. Medication will be administered if required and much attention, cuddles and brushing will be offered for those cats who enjoy such attention. I am also experienced enough to know when a cat likes to be left alone!
Many of my four-legged customers are thrilled to see my basket, which contains lots of fun and exciting toys and more often than not will dive in to flick one or two out to play with! And play we do!!
Periodically I will update owners with a little message about what their cats have been up to J
My customers have entrusted not only their beloved pet in my care, but also their home, and I take my role as custodian of their property very earnestly. I always make sure all is OK with the property and tend to lights, locks, doors, blinds, etc, as instructed by my customers. Also, my service is absolutely discreet and I never advertise my arrival with any kind of advertising on either myself or my car.
Because I take my duty of care extremely seriously and because the welfare of cats in my care is always my primary concern, on numerous occasions I will make extra visits (at no charge). This could be because a cat (with outside access via a catflap) wasn't present when I visited earlier in the day, or I because I might be passing quite close to a current customer – and can't resist calling in to provide some extra cuddles or company (especially if it is an elderly cat that enjoys laptime – or kittens that enjoy playtime! That's simply who I am, and why my service is THE service of choice in my area. It goes without saying that your cat's well-being is most important and should he/she seem unwell or injured then I will seek vet advice, take your cat to the vet where necessary, and keep you informed.
I strongly believe the service I offer is a better alternative to a cattery. Please check out our article Why Cats Hate Catteries. The feedback I receive confirms that cats in my care are happy and relaxed when their owners return. It is very clear that cats prefer staying in their own familiar surroundings - and with the love and attention they get from me, why wouldn't they?
About me
Having wanted to live in London since I was here on holiday at the tender age of 7, it was a dream come true when I was offered employment in the capital when I was 24 years old. I quit my job in Norway, bought a one-way ticket to Heathrow and have never looked back!
I was born and raised in Norway and like any Viking have a great love for the sea!
Living in London I don't often get to enjoy the seaside, but luckily my family and I live near the Thames so at least we see the odd boat or two!
I live in Chiswick with my partner, my daughter and two step-children and I feel very much part of British life.
Get in touch today!
If you want your cat(s) to have a lovely time whilst you are away, please get in touch with me today.

To contact me, please enter your full postcode in the form at the top of the "Home" page.
I hope to meet you and your cat(s) very soon!
Best regards
Tonje