Luton Cat Sitting
My name is Paul Samme and along with help from my wife Sue, we are devoted pet sitters and specialist cat sitters providing a very caring and professional pet sitting service and specialist cat sitting service covering Dunstable, Luton, Totternhoe, Eaton Bray, Edlesborough, Houghton Regis, Woodside Estate, Skimpot, Leagrave, Sundon Park, Stopsley, Caddington, Kensworth, Markyate, Whipsnade, Leighton Buzzard, Leedon, Linslade, Toddington, Harlington and surrounding locations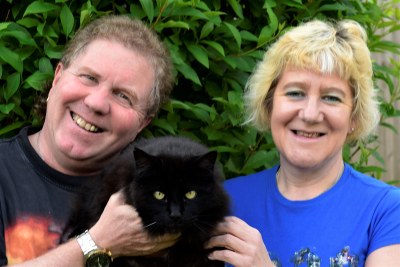 Our Luton Cat Sitting Reviews
Please check out our customer reviews by clicking the following link:
Why my service will benefit you, and most importantly your cats
Cats are very territorial. They don't just like familiarity, they absolutely NEED it! They hate being taken away from their familiar home environment and when forcibly taken away to a cattery, this separation from home comforts and environment in combination with the very confined space usually causes them huge stress. Veterinary experts agree that when a cat gets stressed, this can invariably lead to illness, depression and loss of appetite. This is why my service is such a huge benefit to you and your cats. You can go away and enjoy your holiday in the knowledge that your cats are in their own home in their usual safe and secure environment and being cared for by a fellow cat lover. In fact, your cat might not even notice that you aren't there! I visit at least once a day and do the obvious practical things such as putting down food and fresh water, and I also maintain a high level of litter tray hygiene where litter trays are present. Most importantly, I spend quality time with the cats in my care. Most of the elderly cats in my care appreciate lots of lap time and fuss, whereas the younger cats prefer lots of energetic playtime such as "chase the string" and other fun games. In addition, I am happy to water your plants (both indoor and outdoor plants along with greenhouses) and I will also put out your bins for emptying and return them to the house afterwards. Whilst my main service and my passion is caring for cats, if any of my cat owning customers also have an additional small pet or two (such as goldfish, guinea pigs or hamsters, for example, but not reptiles or insects), I am happy to assist with their care. (In such cases my fee may be slightly higher to take account of the extra time involved). To provide you with that extra piece of mind, I also hold a basic disclosure police check and public liability insurance.
About me
I currently live in the village of Totternhoe with my wife Sue and our two cats Lily and Will. Many years ago before I moved to Totternhoe, some of my neighbours were cat owners and I was always very happy to feed their cats and spend time with them when the neighbours were away on holiday. It was originally just one neighbour but over time I assisted several more. The neighbours would come back from their holidays and always remark how much happier their cats were compared to previous times when the cats were put into catteries. This gave me enormous satisfaction and a feeling that I was making a real difference to the lives of cats and their owners. Since then, I have always had it in the back of my mind that somehow, someday, I would like to make a similar difference and perhaps help many more cats and their owners (although I wasn't exactly certain how things would unfold).
I kept thinking back to how much I enjoyed fussing, and feeding my neighbours' cats and helping to make them feel safe and secure in their familiar home environment. After doing a considerable amount of research, I came across the brilliant Home Loving Cats service and as they say, "the rest is history!"
Apart from my passion for cats, I also enjoy cycling (preferably off-road), walking, white water sports, live music, watching motorsport, and American football. I am also a keen amateur photographer.
My cat history
I have been around cats my entire life. I grew up in Harefield, Middlesex. We lived at the far end of the village and there was no main road nearby, just fields and woods. This was ideal for bringing up cats, and throughout my childhood my family always had cats. Sue and I have been married for 26 years. Shortly after moving into our first house, Sherry, a tiny little black kitten moved in with us.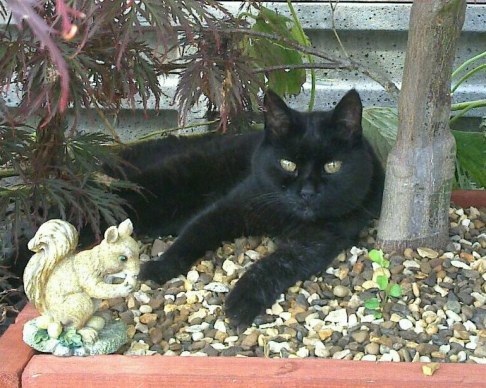 She was with us for 20 years before she passed away. She spent some of that time with another cat we rescued called Tolo. Sherry and Tolo were never really the greatest of friends, unlike our current cats, Lily and Will, who are constantly together. It's like they're "joined at the hip!" We adopted them from Luton Cats Protection.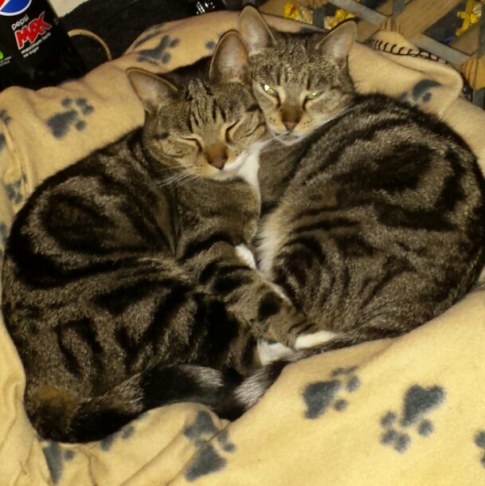 When they came to us they were very timid. We were told it would be a lot of hard work getting them to trust us because of the lives they had led previously. We allowed them the run of the house and to begin with, we didn't see much of them. After about a month they started to trust us and enjoy a little fuss, but only on their terms (which was fine as far as we were concerned).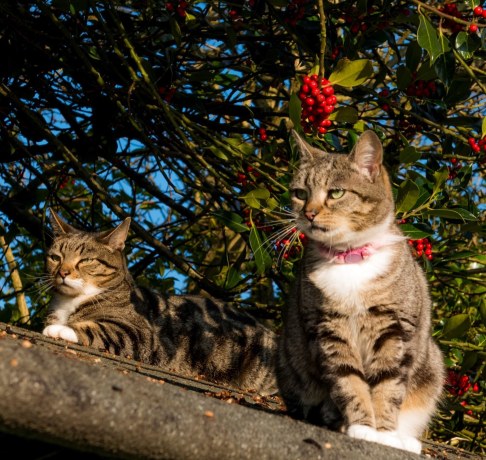 We then decided that they were ready to go out and cat flap training got underway. This was very challenging. Cats Protection had been unable to get them to use a cat flap and told us it would be an impossible task. But after about a week of picking them up and walking them to the flap until it opened, they finally "got" it. A great deal of mutual satisfaction was felt by all of us (Lily, Will and ourselves). Two years later, they are now completely different cats. They have become very confident and love nothing than to enjoy lots of fuss as often as possible. After Sherry and Tolo, but prior to Lily and Will, we had a cat called Okey.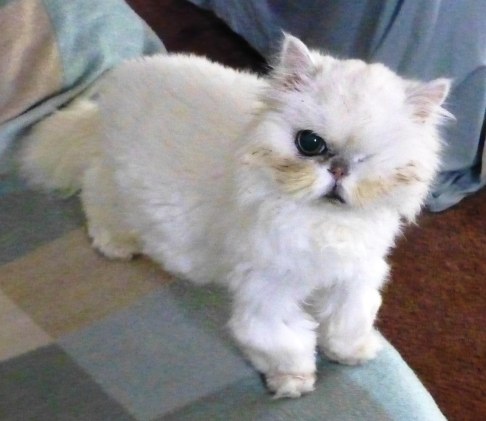 He was an elderly white Persian cat with only one eye and ongoing health problems. He had belonged to our friends who were moving abroad to work for a year. They asked us if we would look after him for a year. We said that we would be happy to care for Okey but not just for a year, but on a permanent basis. They agreed to this and so Okey was with us for the last 3 years of his life. He was the biggest "fuss monster" of all time; he was very demanding and was only truly happy when on somebody's lap. But how lovely he was, and it was truly a privilege to care for him.
Contact Me Today!
If you want your cats to have lots of fuss and a lovely time whilst you are away, please get in touch with me today!
To contact me, please enter your full postcode in the form at the top of the "Home" page.
Tell your cats that I'd love to meet them soon!

Best regards

Paul