Manchester West Cat Sitting
My name is Alison Nelson and I'm a devoted pet sitter/cat sitter providing a very caring, professional pet sitting/cat sitting service which is far more suitable for cats than a cattery. (Check out our article in relation to catteries called Why Cats Hate Catteries). My service covers Salford, Swinton, Eccles, Worsley, Walkden, Boothstown, Urmston, Cadishead, Trafford Park, Stretford, Firswood, Old Trafford, Whalley Range, Hulme, Castlefield, Irlams o' th' Height, Manchester, Spinningfields and surrounding locations.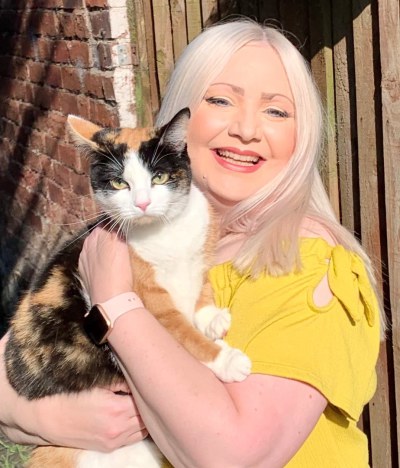 Why it's brilliant when your cats stay at home...
With my service, instead of having your cat suffer the strange and unfamiliar surroundings of a cattery - it can stay at home in a familiar and totally stress-less environment!

Cats are territorial and when forcibly taken away from their familiar home environment, they can become extremely stressed. Vets acknowledge that when cats suffer stress, they can experience illness, depression and various eating disorders. You might wish to take a look at our article which explains why a cattery is not really the best place for cats.
I don't just do the obvious things like putting out food and maintaining litter tray hygiene because socialising with cats is an equally important aspect of my service. Depending on their preferences and age, I also provide lots of play, cuddles and company to ensure they are happy and content whist you are away. In addition, I will send you periodic updates providing you with additional peace of mind.

I also possess a Basic Disclosure Police Check and carry Public Liability Insurance.
About me
I have always enjoyed helping people and love all things "cat!" I love their individual personalities, their wonderful sense of fun as natural comedians, and the depth of love and affection they share with you if you are lucky enough to have them in your life.
Being around cats is my idea of "purrfect" heaven, and ensuring cats are loved and properly cared for is of great importance to me. When you are away from home, I know how incredibly important it is to be absolutely confident that your cat is being very well cared for.

I have been lucky enough to have cats in my life since I was six years old. At that young point in my life it was Sooty, and since then there has never been a time when I haven't owned at least one, and more usually two cats. Sooty stirred something in me that was very special. He would fall asleep in my dollies pram and I would push him around as my 'fur baby. That special love has never left me!
Since then I have adored Tigger, T.C., Mindy, Willow and Boris.
Boris was a big ginger tom with a personality to match. As can occasional happen with neutered males, Boris was diagnosed with diabetes (when he was nine years old). Having an organised routine and reading his catty language was key to manging his condition, which I successfully managed for over seven years until we sadly lost our boy in 2018 at the ripe age of sixteen. Boris will never be forgotten.
Following his passing, we adopted our two current cats from the Irlam-based animal charity shelter "Animals In Distress". The dedicated people there do great work in our local community caring for and rehoming stray animals. They have several charity shops in the local area to help fund the amazing work they do. To check out the cats that are ready for adoption, click Animals In Distress.
My Current Cats
Our beautiful girls Bella and Esme are my world. Bella is a four year old tortoiseshell and white cat who is chunky, very affectionate, and loves to lick anyone she meets! She was the first cat we met at the charity shelter and we fell in love with her instantly. Although she is rather clumsy, she is adorable and wonderful in every way.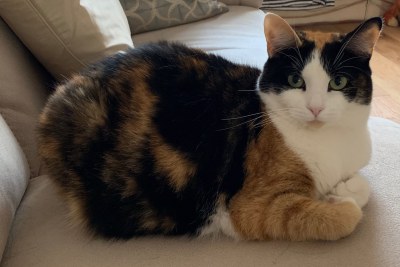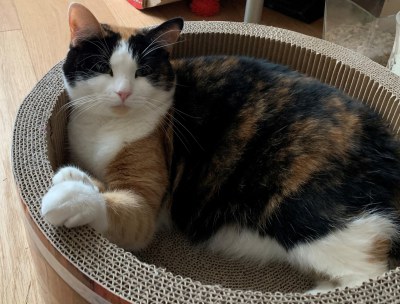 Esme is 18 months old and again tortoiseshell and white. When we met her, she had a litter of three kittens, all of which were earmarked for new homes. However, no one wanted Esme. She was the last cat we met in the shelter and and you can guess what happened next! As with Bella, we knew instantly that she had to come home with us. It has taken us around 12 months to win her over, but her sweet and feisty personality make her completely bewitching.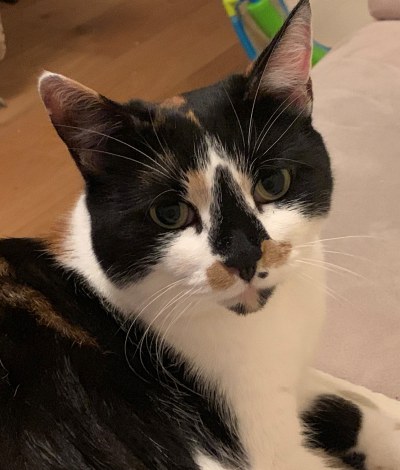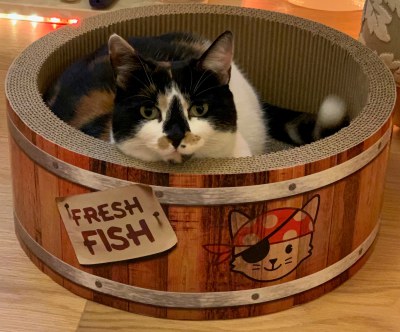 Contact Me Today!
If you want your cats to have lots of fuss, socialising, playtime or lap time, and a stress-free, relaxed time whilst you are away, please get in touch today!
To contact me, please enter your full postcode in the form at the top of the "Home" page.
See you soon!
Alison