Stafford Cat Sitting
I am a Samantha Jones, a devoted pet sitter and specialist cat sitter providing a very caring and professional pet sitting service and specialist cat sitting service covering Stafford and surrounding areas including Stone, Eccleshall, Penkridge, Rugeley, Great Haywood and Little Haywood.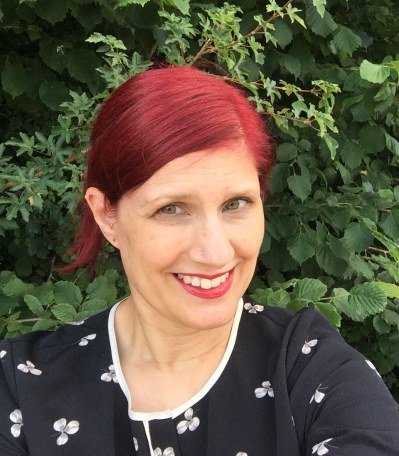 My Stafford Cat Sitter Reviews

Please check out my customer reviews by clicking the following link:

Stafford Cat Sitter Reviews
Cats really hate leaving home!
Cats are territorial animals and they really hate being away from home. If they are forcibly removed from their familiar home environment, they can become stressed, fretful, and depressed, and can sometimes stop eating for days at a time. This can cause their natural immunity to be reduced and they can be far more susceptible to infections and illnesses. Using my cat sitting service also eliminates travelling to and from the cattery and being subjected to cattery opening times which are not always convenient for owners.
Check out the article Why Cats Hate Catteries

About me
I currently live in Stafford - home to the amazing Charlie's Cat Cafe. As it says on their website "We do more than serve delicious coffee and food. We provide a fun environment for humans and animals to get to know each other". I have been a pet owner from an early age. As a family, and when I was around seven years old, we had a black cat called Elvis. Unfortunately, one day he never came back from one of his neighbourhood travels. I never forgot Elvis and I still think of him fondly to this day.
By the age of twelve I had a guinea pig, two rabbits and four gerbils. As soon as I was old enough, I did a paper round to pay for their food & bedding. I think my parents thought I may grow out of my love for animals - but I never have!
I am a friendly and upbeat person who loves meeting new people - and of course new cats!
I currently have 8 cats, 5 guinea pigs, a rabbit and 2 tortoises

My own cats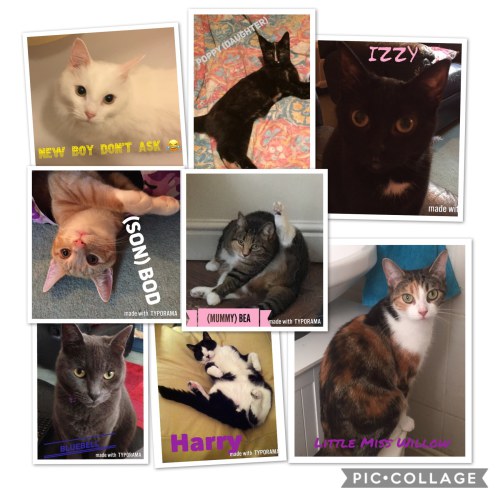 My own feline family currently comprises:
Bluebell, who could be mistaken for a Russian blue when in fact she's the daughter of an all black cat!
Harry is a big black & white boy who was left on an animal charity shop doorstep one summer in a cat carrier. He's one of the friendliest and the gentlest cats I've ever met. He loves grabbing my hand in his paws & licking it as a sign of affection!
Izzy was in a litter of kittens that were roaming the streets in Tettenhall. She's all black with a white blob on her chest. She does high fives!
Then there is Bod, a ginger Tom, and Poppy, his English Tortoiseshell sister. Their mum Bea had been left behind when her owners had moved house. A number of my cats including these three were rescued by Kats Cradle, a really fantastic cat rescue organisation based in Coven, Wolverhampton. If you are looking to offer that "forever" home to one or more cats in need, their contact information can be found via either of the following links:
"New Boy" is a huge white fluff ball. He was called originally called Harry and I had him from a colleague whose son was allergic. It wasn't long before he was responding to being called the "new boy" and since I already had a "Harry", the name stuck.
Then there is baby Willow who is calico coloured and who came to me as a kitten from a colleague. Even though she is now past kitten age, Willow is still like a tiny kitten in her mannerisms!
Sadly, I've lost 2 cats. I lost my Zippy, an all-black cat to kidney failure when she was about twelve and my Treacle, an English tortoiseshell, passed away last year quite suddenly. They certainly take a piece of your heart when they go.

My cat sitting work is my passion - which is great for your cats!
When I came across Home Loving Cats, I knew immediately that this was my opportunity to follow my dream of running a business caring for animals - specialising in our feline friends.
The saying goes that "If you do something you love, you never work another day in your life". Since I love all cats (whether they are my own or other people's), it's an absolute pleasure to offer my customers a service that allows them to enjoy their travel adventures in the knowledge that a genuine cat lover is taking care of their cats. Not only do I cover the obvious practical aspects of food, water, and litter tray hygiene, I give all cats in my care quality time and company and try and replicate their normal daily routines as much as possible. This might be activity and "play time" in the case of kittens and young cats, or "lap time" in the case of more elderly cats. Or maybe (don't laugh!) I may even sing to them. I sing to my own cats and they love it (I think!). So as you can see, I'm just crazy about cats!
I administer medication
I am also very experienced in administering all kinds of medication including tablets, sprays and insulin injections for diabetic cats. So if you cat requires medication, it's all part of my service.
For total peace of mind whilst you are away from home, please get in touch today and I will email you some information and a fee quote.
Your cat will thank you for it!
To contact me, please enter your full postcode in the form at the top of the "Home" page.

See you soon!
Samantha