Stoke-on-Trent & Newcastle-under-Lyme Cat Sitting
I am Paula, a devoted pet sitter and specialist cat sitter providing a very caring and professional pet sitting service and specialist cat sitting service (a better option than a cattery) and covers Stoke-on-Trent, Newcastle-under-Lyme, Chesterton, Porthill, Silverdale, Keele, Knutton, Wolstanton, Cross Heath, May Bank, Hanley, Fenton, Tunstall, Little Chell, Great Chell, Burslem, Smallthorne, Norton-in-the-Moors, Sneyd Green, Abbey Hulton, Milton, Baddeley Green, Bucknall, Clayton, Parklands, Trent Vale, Hanford, Trentham, Hem Heath, Barlaston Park, Longton, Dresden, Meir, Werrington, and surrounding areas.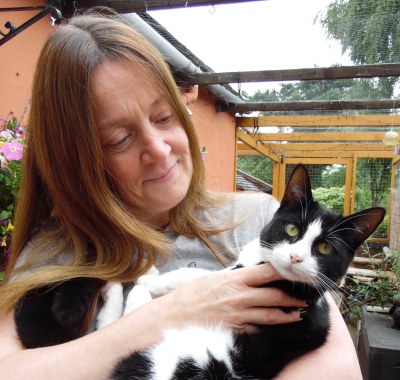 My Stoke-on-Trent and Newcastle-under-Lyme Cat Sitter Reviews

Please check out my customer reviews by clicking the following link:

Stoke and Newcastle Cat Sitter Reviews
About me
I've been around cats all my life and my family home in Clayton was never short of the sound of "meows". Some of my first memories are of Tiger, a beautiful tabby who loved to be pushed around in my dolls pram. Then came Skippy who had a knack of bringing home the stray cats in the area. That's how we ended up with Timmy and Ben. The vet believed Ben had been hit by a car and he had to have his back leg amputated. (But boy, could he still run fast!). There was also Big Ginge (a huge tom cat), Max and Little Skippy (so named because she was the image of 'big' Skippy).
When my husband and I bought our first home together it even came with two resident cats!! My husband is called Simon and we have two grown up daughters Jasmine and Molly. We currently share our home with our five gorgeous cats. We had Simon (yes my cat and hubby have the same name!!), Roo and Mitsy from Cats Protection Stoke and Newcastle. Our other two beauties Tilly and Michelle are from a fantastic local charity "Iris Cats in Need" who work tirelessly to help the stray and needy cats and kittens of our area. They always have cats looking for a loving home so if you are looking to adopt please consider them.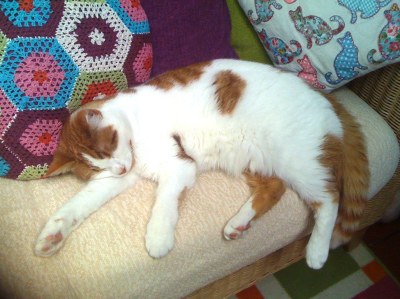 Why cats love my service!
On one occasion when we were due to go on holiday, I knew that my cats would not be happy going to a cattery. It's not really a mystery as to why this is the case. Cats are simply territorial and they hate leaving home! (Please click on our article Why Cats Hate Catteries). Prior to becoming part of Home Loving Cats as a franchise owner, I was originally a customer of Home Loving cats - so I was able to experience the benefits of the service first hand. Paul and Yolanda came to meet me and my cats at my home to run over the arrangements for their care and I was then able to fully enjoy my holiday in the knowledge that my cats were happy and well cared for in their own familiar home environment.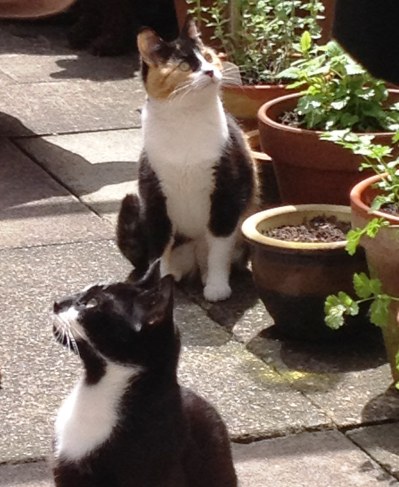 My change of direction
I had worked as a teaching assistant for 17 years in a primary school and this was a fulfilling in its own right. However, I then came to a point in my life when I wanted the challenge of doing something different.
I reflected on how blessed Paul and Yolanda were to have a job that they loved so much and Home Loving Cats was the obvious choice for my career change. I now work for myself doing what I love most in the world – which is caring for cats.
Why my cat sitting service benefits you and your cats
I am passionate about what I do and the health and welfare of cats in my care is always my main concern. By choosing to use my service, you can enjoy your holiday knowing that your cats are safe and happy and will be looked after as if they were my own.
I will arrange to meet you (free of charge) at home a few days before you depart so you can introduce me to your cats and we can run over the arrangements for their care.
I will spend time with your cats every day, doing all the practical things such as providing food and water, and servicing litter trays. However, in addition, I will spend quality time with your cats. If they like to play, I will play with them. If they like to be fussed and stroked, all they like to be groomed, or they enjoyed close attention, they will receive plenty from me! I have also experienced in caring for very shy and timid cats and also elderly cats that simply want some lap time!
I can be available at short notice and will do all I can to help you if you need arrangements put in place quickly. Bookings can be made for any length of time from one day upwards. If you need to extend your stay or your return gets delayed, all you need to do is let me know and I will continue to look after your cats until you return.
For your security and peace of mind, I hold a basic disclosure (police check) and also public liability insurance.
My visits are discrete with no branding or advertising on my car or clothing - so nobody need know you are away from home.
Contact me today!
I look forward to meeting you and your cats very soon.
Please get in touch today.
See you soon!
To contact me for a "no-obligation" quote, please enter your full postcode in the form at the top of the "Home" page.
Best regards
Paula