Sussex North Cat Sitting
I am dedicated cat sitter in Horsham and Crawley!
Hi, my name is Jess Eldridge and I'm a pet sitter and specialist cat sitter providing a very caring and professional pet sitting service and specialist cat sitting service covering Horsham and Crawley especially.
I also provide a cat sitting service in Broadbridge Heath, Warnham, Southwater, Billingshurst, Broadfield, Bewbush, Ifield, Maidenbower, Worth, Pound Hill, Copthorne, Crawley Down, Horley, Smallfield, Balcombe, Ardingly and surrounding areas.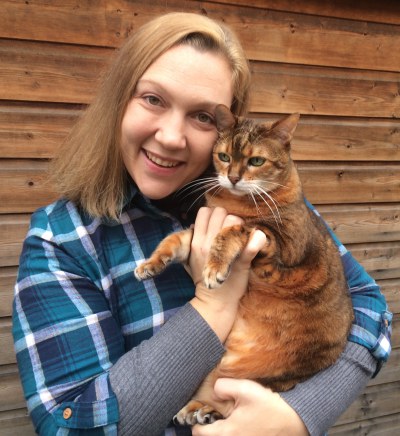 My Cat Sitting Reviews
Please check out my customer reviews by clicking THIS LINK.
About me
I originally qualified as a nurse, after having been a healthcare assistant. I then became a community learning disabilities nurse, having previously worked in hospital settings. I believe that the care and compassion I have put into my role as a nurse qualifies me perfectly to provide a reliable and supportive cat sitting service for you. As well as being highly organised and professional, I have an enhanced disclosure (DBS) and public liability insurance.
I have been married to Andy for 11 years, we have one little boy called Bertie, and of course our fur baby Bridget (in the photo above).
I have lived in and around the Horsham/ Crawley area all of my life, so know the area very well.
How my love of cats started!
My great love of cats started from an early age as my wonderful dad was the biggest cat lover ever. His nickname was the "cat whisperer" and every cat he came into contact with clearly adored him. They would always head over to him to be loved and made a fuss of by him. We also used to 'joke' that he loved cats more than (most) people - a statement that he definitely agreed with!! We had cats in the family ever since I can remember and one of my earliest memories was dad driving up to Birmingham to collect a Turkish Van cat named Kemal who had broken his tail during birth. This meant that he could not be shown in cat shows as intended, and therefore became our much loved, feisty family cat for many years to come. I also remember being allowed my 'own' cat for the first time when I was aged 10. Delburt, a pure black moggy, was my absolute pride and joy, and I still have the hand-made cards I created for him every Christmas and birthday!
After Kemal and Delburt had passed in 1998 we were sadly left with a cat shaped "hole" in our lives. Feeling the great need to fill it we contacted Cats Protection Horsham who were happy for us to adopt. The plan was to adopt one black cat. However, mum and dad hadn't really taken into account the fact that I also went along to choose. (I was 18 at the time and still living at home). We promptly returned home with three! – namely Fred, Barney and Wilma (2 tabbies and a ginger). Well, I argued, "they were brothers and sister so you couldn't separate them!!" – so my wish was not to be denied! Pebbles, Bam-Bam, Betty, Baby, Dino, Tommy and Chica have all followed, although some sadly passed away over time. The first cat that Andy and I had together was our beloved Bridget. She was adopted 12 years ago, just before we got married. She is, and will always be, our baby - noisy as she is!! (as Bengals like chatting!)
Why I decided to start my own cat sitting business
Shortly after giving birth to my beautiful son Bertie, we devastatingly lost my beloved dad after a short battle with cancer. This was then heartbreakingly followed by the sudden and unexpected loss of Andy's father.
It was around this time when I was looking to return to work, that I began to question what I really wanted to do with the rest of my life and I realised that I needed an appropriate change of direction. The combination of the extreme joy of having Bertie along with our double loss was the catalyst that prompted me to start my Home Loving Cats cat sitting business. Also, by providing the most cat-focused and loving service I possibly can, this is the best way I know of continuing my dad's cat loving legacy.
Why Choose my service?
Because I'm a cat lover like you - and cats in my care receive fantastic attention!

12 years ago when I adopted my beloved Bengal Bridget, I was facing the same dilemma as you... I wanted to go away for a family holiday but at the same time wanted to ensure that my precious girl would be cared for and spoiled (!) whilst I was away. To be frank, if it was an option, I would have taken her with us; but my husband Andy said no, as did Easyjet flight policy! Friends and family did offer to look in on Bridget, but I really wanted an experienced and caring "cat person" to take care of my bundle of fur as if she were their own. I eventually found a suitable cat sitter and this gave me enormous peace of mind when I travelled away. It also meant I could be as fussy as I liked about Bridget's daily care (as she's a bit of a diva!). As a cat owner and someone who has personally used cat sitting services, I know exactly what it takes to provide an excellent service to you and your cats, and this is exactly what I provide. Most cats hate going to catteries. In fact, most cats hate to travel! If your cats are anything like Bridget (who struggles to go less than half a mile to the vets without yowling the car down), my service is absolutely perfect!! But with the cattery option, it means that before cats even get to the cattery, they are very stressed from travelling. And that's before the alien environment and scary new smells of a cattery, as well as the reduced space to roam and explore, really begins to freak them out and substantially raise their stress levels! On the other hand, cats who are cared for in their own homes are relaxed and content. I can testify to this, in some cases (I'm looking at you Bridget!), they barely notice their owners have gone, as they are enjoying being pampered and waited on by new 'staff' safe in the knowledge you will return soon. Check out our article "Why Cats Hate Catteries".
Get in touch today!
If you would like your cats to be cared for, entertained and most importantly, loved in the comfort of their own home whilst you are away, then please get in touch. I'm sure you will return to find your fur babies have had as good as time as you. I pride myself on being kind, caring and reliable and believe that leaving your cats in my capable hands will enable you to relax and enjoy your break (with regular updates of course!).
To contact me, please enter your full postcode in the form at the top of the "Home" page.
See you soon!
Jess