Wirral Cat Sitting
My name is Barb Williams - the "crazy cat lady" of the Wirral! - a devoted pet sitter and specialist cat sitter providing a very caring and professional pet sitting service and specialist cat sitting service across the Wirral peninsula including Birkenhead, Heswall, West Kirkby, Hoylake, Wallasey, Bebington, Bromborough, Thurstaston, Moreton, Port Sunlight, Upton, Eastham, Barnston, Thingwall, Egremont, Storeton, Pensby, Spital, Brimstage, Rock Ferry, Raby, Frankby, Leasowe, Oxton, Seacombe, Caldy, Claughton, Liscard, Meols, Irby, Greasby, Woodchurch, Bidston, New Ferry, Prenton, Thornton Hough, Neston, Willaston, Hooton, Parkgate and surrounding locations.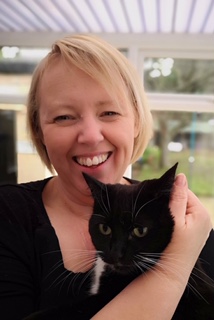 My Cat Sitting Reviews
Please check out my customer reviews by clicking THIS LINK.
About myself and my family
Most of my family are passionate about animals. We share our home with Oscar the cat, chickens, guinea pigs and fish.
We have always aimed to rescue animals which haven't had the best start in life and give them a taste of what a loving family feels like. Our pets basically "rule the roost" – and that's absolutely fine with us!
We have been pet lovers for many years and have previously fostered animals from RSPCA Wirral and Chester (based at Cross Lane, Wallasey). Over most of the last decade we have run a pet boarding business for rabbits, guinea pigs, rodents, budgies, other cage birds and chickens (where pets stayed at our home). However, we no longer offer that service and instead I now fully focus on my Home Loving Cats cat sitting service (where I visit cats in their own home). My extensive experience in caring for a range of small pet animals and birds means that if in addition to caring for your cats you would also like me to provide care for your other pets (excluding dogs), then I would be happy to include this in my quote. You can be assured that regardless of whether you have a cat or other small pet or bird, I will come along to your home and give them the stimulation, love, warmth and appropriate care that they all deserve.
I'm married to Gary who works full time in his own career, but he is also a huge support for me when I need that extra hand! I also have a daughter Megan, who aspires to be an RSPCA inspector once she has finished her degree at university - so she will also be additional help at extra busy periods. (She's an experienced dog walker and has years of experience looking after animals).
We live in a beautiful part of the Wirral. It's a haven for wildlife, and we are so blessed to be living here. It also has a number of marvellous animal rescue centres. If you are able to offer a loving "forever" home to a cat (or cats) in need, why don't you contact the wonderful people at Cats Protection North Wirral or Cats Protection South Wirral?
When I have free time (which isn't very often!), I love to read and bake, and I enjoy hunting out a bargain at car boot sales!
Your peace of mind guaranteed!
We are professional and highly experienced in caring for all pets - and especially our feline friends! We understand how worrying it can be when you go on holiday and leave your family pets behind. However, we guarantee to minimise or even eliminate your stress, and you'll be able to travel away with peace of mind of knowing that your pets are safe and happy in our care.
Why catteries aren't the best solution for most cats
There are some very caring and responsible cattery owners and indeed some of my friends own highly recognised businesses in the area.
However, no matter how caring and well-meaning cattery owners are, we can't get away from the fact that cats simply don't like leaving their familiar home environment! To find out why, click on our article: "Why Cats Hate Catteries".
Why our "home visit" service is great for your cat(s)
Because cattery owners are caring for many cats at once, there simply isn't much time to spend playing with a cat, or socialising with it, or cuddling it, for more than a few minutes at a time. This isn't ideal and can cause your cat to suffer from separation anxiety and stress. Our home cat care service can minimise or eliminate this, and we normally aim to stay with a cat for long as our visit reasonably allows - which is normally for up to an hour. In addition, your cat will have access to familiar toys, (possibly) a catflap, and familiar and cosy hiding places. Most importantly, cats have someone they can trust and who has time to play, and provide company, stimulation and re-assurance. Not to mention a lap to curl up on - for a nap or "cuddle time!"
Also great for your home security!
Your home will be in safe hands, your curtains and blinds can be opened and closed as you wish, and your refuse bins put out and brought back. Plants can be watered. Your home will looked lived in, and all visits are made in a normal car that does not carry any advertising.
Flexibility is a key feature of our service
We provide care throughout most of the year and including bank holidays. We are happy to take last minute bookings if you fancy a bargain holiday - although some notice is always appreciated. We aim to be as flexible as possible for you, and that our service is personal and bespoke to your needs.
We are also fully insured and have DBS checks in place.
We can't wait to meet you and your cats!
Get In Touch Today!
If you want your cats to have lots of fuss, playtime, and a lovely time whilst you are away, please get in touch with me today!
To contact me, please enter your full postcode in the form at the top of the "Home" page.
See you soon!
Barb